Sony will be launching the Xperia Z4 as the Xperia Z3+ globally, according to reports. The Xperia Z4 was launched quietly earlier this month with a similar design as the Z3 and didn't bring any major changes.
Sony's newest Xperia Z4 offers a faster Snapdragon 810 processor, a slightly superior 5 MP front-facing camera and an uncovered microUSB port that's still water-resistant. Apart from that, the smartphone has almost the same specs as last year's Xperia Z3, so the Xperia Z3+ name seems more apt. Also, this would leave the company to launch a better flagship device. According to reports, Sony is also planning to reduce the release cycle of its flagship devices to an annual basis.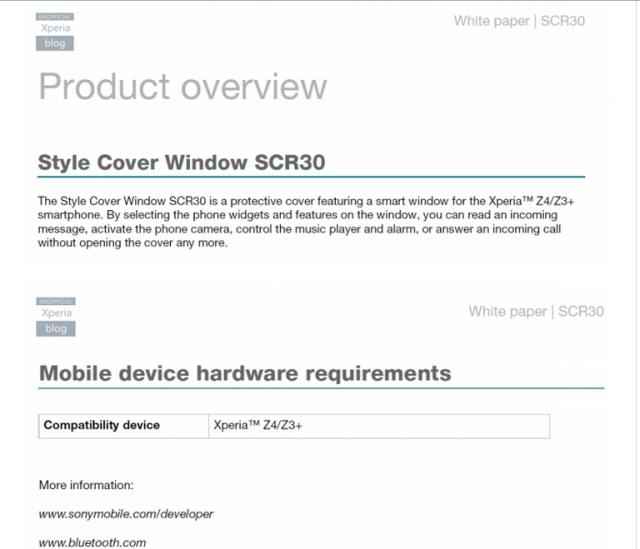 The report comes from a white paper of the Sony SCR30 Style Cover Window accessory for the Xperia Z4 where Compatible products for the case are listed as the "Xperia Z4/Z3+". However, the white paper was later removed by Sony.
The Sony Xperia Z4/Z3+ features a 5.2-inch full HD screen, with a dust and water resistant body. It has an octa-core Snapdragon 810 processor paired with 3 GB of RAM and runs the latest Android 5.0 Lollipop OS. The smartphone has 32 GB of built-in storage expandable up to 128 GB via microSD card slot. It has a 20.7 MP primary camera and a 5.1 MP secondary camera. Both the camera are equipped with CMOS Sensor Exmor R. The Xperia Z4/Z3+ is backed by a 2930mAh battery. The smartphone is expected to be launched in Japan in the summer followed by other markets.
Source: Mobiletelefron
Tags:
Sony
Sony Xperia Z4 smartphone
Sony Xperia Z3+ smartphone
Sony Xperia Z3+ smartphone global launch
Xperia Z4 rebranding