Want to modernise your banking loan application?
Build an application that analyses credit risk with #IBMCloud Pak for Data on #RedHat #OpenShift
Click here to know more
Advertisements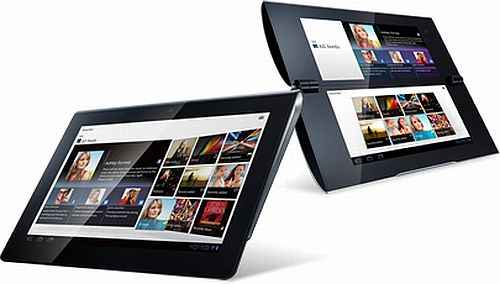 We'd heard about the Sony S1 tablet being christened the Sony Tablet S last week, and now, new reports have given a name to the S2 tablet – Sony Tablet P. A dual-screen offering with two 5.5-inch displays, the Sony Tablet P (right, above) seems to an incredibily lightweight performer, supposedly weighing in at 370 grams.
[RELATED_ARTICLE]
Other reported specifications include the prerequisite Tegra 2 dual-core processor, 512MB of RAM, 4GB of inbuilt storage expandable via SD (2GB SD card bundled), and both Wi-Fi and 4GB connectivity. It will also feature the same 0.3MP front-facing camera as the Sony Tablet S (not 3MP, as in previous reports). No word on the rear camera of the Sony Tablet P, whether it will be the same 5MP offering as the Sony Tablet S.
Looking at the slightly lower-end specifications, we expect the Tablet P to retail for slightly less than the Tablet S, making up the price difference with its novel form factor. For more details about the Sony Tablet S, refer to our previous coverage.
The latest reports peg the arrival of the two devices by September of this year – and though pricing remains unknown, they will undoubtedly be pegged in someway to the iPad 2.