During its recent Corporate Strategy Meeting, Sony revealed that it has withdrawn operations from India and some other regions.
Smartphone manufacturing and sales is an uber-competitive market, especially in a country like India. Constant innovation and enticing product pricing seem to be working in favour of companies, at least in India. While some new players like Xiaomi, Oppo and Vivo are thriving in this segment, others like Sony are struggling to keep up with changing times. Now, it seems, Sony Mobile India is finally hanging up its boots. During a Corporate Strategy Meeting, Sony revealed that it is completely wrapping up its mobile phone business in India and multiple other regions. The news comes soon after Reuters reported that the company sees its smartphone business as an indispensable asset that shouldn't be scrapped. So, if you are an existing customer of a Sony handset, here's what's happening and what you can expect from the company.
Sony's Corporate Strategy Meeting slide contained a segment called "Smartphone Business Transformation". In these slides, India is one of the confirmed "non focus and defocused regions" where the company has wrapped up its smartphone business. The only operational regions remaining are Japan, Taiwan, Hong Kong and Europe. However, a fresh Reuters report quotes the company's CEO saying that the smartphone business is 'indispensable' to the company. While the statement by the company executive might be confusing, Sony actually wants to scale back on its smartphone division to reduce losses and drive profit from it in the long term. In the meeting, the company laid out plans to reduce its overall cost in the smartphone division by 57 percent by the year 2020. Sony apparently chose the regions where its mobile business is still operational to drive profitability, and because of future prospects with the advent of 5G in those areas.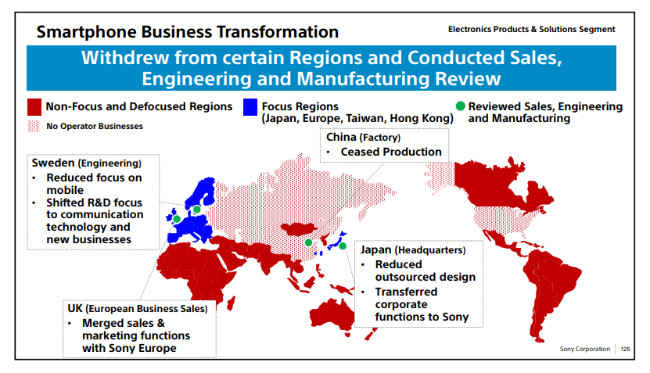 So, what happens to the existing Sony smartphone customers? We reached out to the company for a comment on the discontinuation of its smartphone operations in India. in an emailed statement, Sony India noted, "We have ceased sales in India in FY18 but we are committed to continuing customer support operations including after sales support and software updates for existing customers in India. We will keep monitoring the market situation and business feasibility in India." This spells good news for consumers who are purchasing or just bought a Sony smartphone as the company seems to have no plans of stranding them without any software updates or after sales support.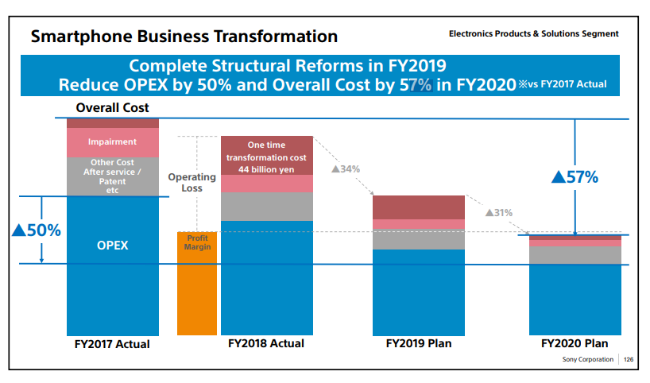 Just a couple of months ago, Sony announced that it is merging its Mobile division with its other divisions like TV, audio and camera into Sony Electronics Products and Solutions and soon after, a report suggested that the phone maker will be cutting down the workforce in its phone division by almost half of its current workforce of 4000, by March 2020. While the news of downsizing is based on a report, judging from the company's goals, it seems like Sony is ready to make some tough decisions to drive down its losses in the mobile phone business.