Sony Xperia Z5, Xperia Z5 Compact and the Xperia Z5 Premium might be announced on September 2nd, suggests leak.
Sony is supposedly gearing up to launch its Xperia Z5, Xperia Z5 Compact and Xperia Z5 Premium next month, just before IFA 2015. The company is not having a good time at the moment, and its latest flagship, the Sony Xperia Z3+, didn't do too better. It was earlier rumored that Sony might fold its mobile business and concentrate on its other verticals. However, these fresh leaks suggest differently.
With IFA 2015 nearing, rumors and leaks have increased. Earlier today, leakster @evleaks spotted the below information on an unofficial Sony Georgia facebook page. According to the image, Sony will be announcing its new phones on September 2nd, just before IFA. The leaked data also clearly suggests that Sony might announce the Xperia Z5, Xperia Z5 Premium and Xperia Z5 Compact.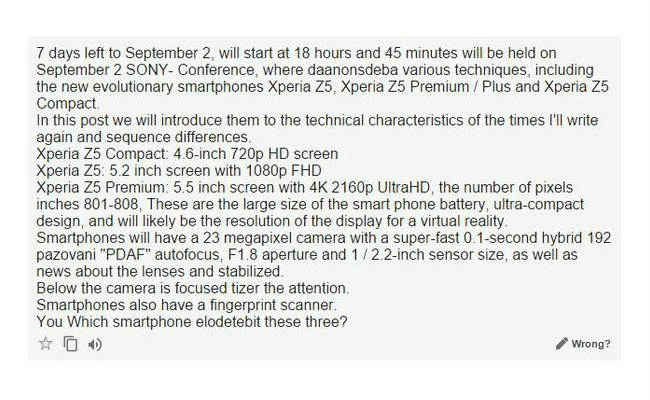 The new leaks suggest that, like previous Sony flagships, the new phones will follow the same screen size parameter. According the leak, the Xperia Z5 will have a 5.2-inch 1080p display, and the Xperia Z5 Compact will have a 4.6-inch display with a 720p resolution. The third phone, however, is new to Sony's flagship lineup. Supposedly called the Xperia Z5 Premium, the phone is expected to feature a 5.5-inch display with 2K resolution.
All three phones are suggested to have a new 23MP camera sensor, which will be a possible upgrade to the 20.7MP camera sensor that Sony has been using for the past two years. With the new camera sensor, all phones might have hybrid autofocus, with f/1.8 lens aperture and 1/2.2-inch sensor size. The phones might also feature a fingerprint sensor, which Sony supposedly has embedded in the side power button. These details were reported earlier as well.
In processing power, there are multiple rumors doing the rounds, with some suggesting that the phones could be powered by Qualcomm Snapdragon 820, and some suggesting Sony to take a second shot with the Snapdragon 810. Other specs like RAM, storage and even battery size is nothing certain, for now.