#IBMCodePatterns, a developer's best friend.
#IBMCodePatterns provide complete solutions to problems that developers face every day. They leverage multiple technologies, products, or services to solve issues across multiple industries.
Click here to know more
Advertisements
While Oppo and Vivo have achieved a full bezel less design of their smartphones, companies like Huawei and Apple are still struggling to the perfect bezel less design. A new patent published shows that Samsung has achieved what others couldn't. According to the information in the document, Samsung's bezel less design will deliver very close to 100 percent screen-to-body ratio in a smartphones, TVs and in monitors.
According to the report by Lets Go Digital, Samsung had filed a patent for its smartphone design on August 24, 2017, which got an approval on June 21 by World Intellectual Property Office (WIPO). The patented Samsung design explains how every phone can be customised and its chassis replaced if it experiences any damage.
The patent shows that the display will have four strips that can be attached to all four sides by means of magnets. These strips can be made from metal, aluminium or even patterned wood (in case of TVs). In addition, there is a U-shaped coupling structure that makes it possible to clip the strips together for extra strength. This technique is ideal in case of damage and to personalise a device.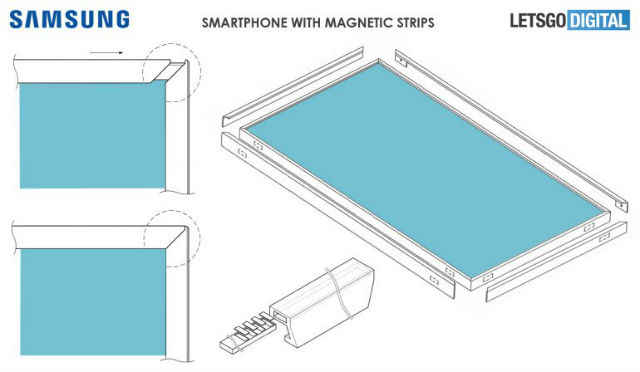 Earlier, well-known leakster Ice Universe tweeted a photo of a bezel-less device believed to be the Galaxy S10. The device in question has three buttons -- a volume rocker and Bixby button on the left side, and power button on the right side of the display. The button alignment is similar to one we have already seen on the Galaxy S8 series, Galaxy Note 8 and more recently the Galaxy S9 smartphones. In the image, no camera or front sensors are seen. The phone has a Samsung trademark curved display on the sides and covers the entire front.