While we have already seen a ton of images and info on the upcoming Samsung Galaxy S8 devices, there seems to be no shortage of new stuff. Two days before its launch, a new set of images were leaked giving us a first look at almost all of the accessories that Samsung might announce alongside the phone. The info was leaked by German website WinFuture.de, and there are more than a dozen case options, along with a Dex dock, which looks particularly interesting. This is a seemingly new accessory for the phone, which can convert the Galaxy S8 into an Android desktop. Rumours suggest that this will support a "Desktop Experience" and has an active cooling system in place.
According to the leak, the Samsung Galaxy S8/S8 Plus will support 4K output via USB Type-C port. The dock will charge the phone wirelessly, and is expected to feature two USB 2.0 ports along with an ethernet port. It will reportedly cost 149.99 Euros (Rs. 10,600 approximately). Samsung will also sell a newly designed wireless charger for 79.99 Euros (Rs. 5,650 approximately) and a 5100mAh fast charging battery pack for 69.99 Euros (Rs. 4950 approximately).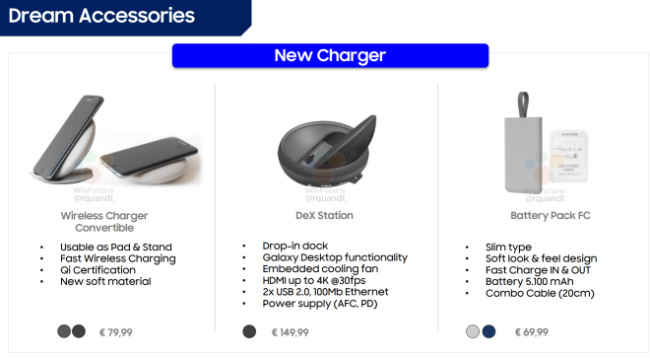 Docks aside, a range of soft and hard covers will be made available for Samsung Galaxy S8 and S8+. The leak suggests that there will be Silicone, Clear, 2-pieces and Alcantara cases, and more. There might also be a keyboard cover, something similar to what we saw back on the Samsung Galaxy S6+ launch. However, the leaked images are too low resolution to make out whether it has the same design.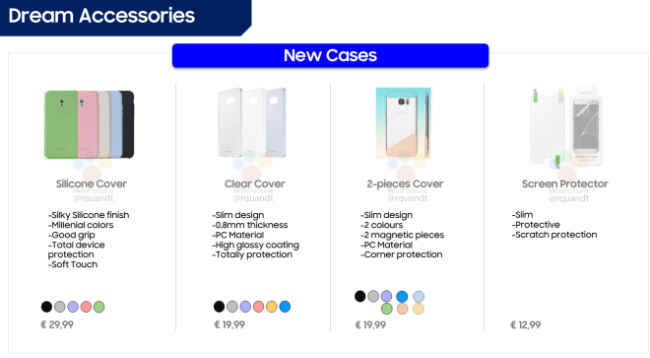 Samsung is slated to launch the Galaxy S8 and S8+ smartphone on March 29 in New York. The phone is supposed to be powered by a Qualcomm Snapdragon 835 or Exynos 8895 SoCs, depending upon region. It is likely to have 4GB RAM and 64GB of storage. Leaked images suggest that the display will be almost edgeless and the fingerprint scanner has been moved to the back. A new AI assistant has been thrown into the mix, and Bixby will also get a dedicated button. From what we know till now, the prices of the phones will start at 829 Euros (Rs. 58,400 approximately).