Fresh round of rumours suggest Samsung Galaxy SIII will be released in London on March 30.
Recently a number of reports and rumours regarding Samsung's next flagship smartphone, Samsung Galaxy S III, have hit the Internet. The device was previously rumoured to be launched at the MWC 2012 event in February. However, Samsung came out with another Galaxy device, Galaxy S II plus, at the event. The Galaxy S III has been long rumoured to launch in first half of this year. According to the latest round of rumours, the Samsung Galaxy S III will be launched in London on the 30th of March.
The fresh Samsung Galaxy S III rumours have been triggered by images of a store in London called Phones 4u with a banner with the message 'Coming 30.3.12' . Tech site Gizmodo, which published the photos, pointed out that previous rumours had hinted Samsung will announce its new flagship device in April or May but not in March. Also, Phones 4u had the Galaxy Nexus exclusively in the U.K. when it was first released, so "it's possible Samsung's done another deal with the high street retailer here too".
Android Central in its report however says the teaser is of some mid-range of Samsung device not the Galaxy S III. "Let's not forget that this is a phone store in London. Samsung's last major London event was at the slightly more impressive Battersea Power Station, where the Galaxy Note and Galaxy Nexus were both on show. Taking all this into account, we're going to take a punt on this and say that it's likely to be something mid or low range," the website states.
The Galaxy S III is supposedly going to have 7-mm width and will take on Motorola's RAZR XT910, which is touted as the world's slimmest phone. The device is said to have a 12MP camera with an LED flash. The display of the Galaxy SIII will be e a 4.8-inch Super AMOLED Plus with an HD resolution. It will most likely feature Samsung's own quad-core Exynos SoC, up to 32GB on onboard storage and whole gig of RAM. You can read our previous coverage on Samsung Galaxy S III here.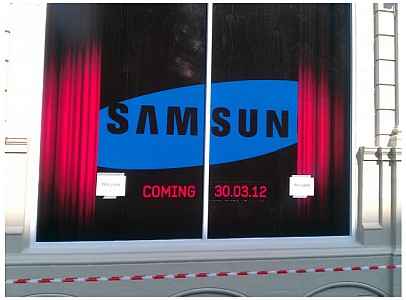 Source: Gizmodo
Also read,