OnePlus TV 32Y1 - Smarter TV
Android TV with superior craftsmanship and elegant design - Buy Now
Click here to know more
Advertisements
As expected, Samsung has launched the Galaxy Note II in India today at an event in Hyderabad, shortly after the phablet's Korea debut yesterday. Priced at Rs. 39,990, the Samsung Galaxy Note II will be available on store shelves from next week, and is already up for pre-order on Samsung's India eStore.
The Galaxy Note II bears a 5.5-inch Super AMOLED display with a resolution of 1280x720 pixels (16:9). It is powered by a quad-core 1.6GHz Exynos 4412 Quad processor, and runs on Android 4.1 Jelly Bean. It boasts of a whopping 2GB of RAM, and also has an 8MP autofocus rear camera with LED flash, and a 1.9MP front facing camera. The device comes with three storage options – 16/32/64GB – the Rs. 39,990 pricing is for the 16GB version.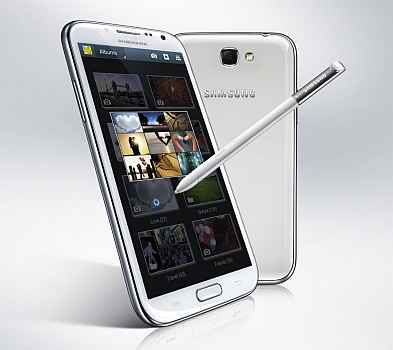 Just 9.4mm thick, the Galaxy Note II weighs in at 180 grams, and will be available in two colours - marble white and titanium grey. The Note II is powered by a 3,100mAh battery – for now, expected battery life figures have not been released.
Samsung has maintained the S Pen stylus from the original Galaxy Note and its core functionality still remains the same as its predecessor. Pulling out the S Pen stylus from its housing and Popup Note loads on the device for quickly jotting down reminders. Stay tuned for our detailed hands-on of the device, at the launch event.
The company also unveiled the Android 4.1 Jelly Bean-based Galaxy Camera, first seen at IFA 2012, which is expected to hit store shelves a month from now. For now, no pricing details have been revealed. The Galaxy Camera has a 16MP BSI CMOS 1/2.3" sensor, and a wide angle (23mm) lens with 21X optical zoom. It sports a 4.77-inch 308ppi HD Super Clear LCD. On the face, the Galaxy Camera feels like a camera because of its build and physical shutter button but flip it over and the device feels like an Android smartphone. Check out our previous coverage of the Galaxy Camera for more details.