Samsung has let everyone know that August 23 will be the launch date of its upcoming flagship phablet, the Galaxy Note 8. Everything else, from specs to design are still speculation and rumours. Amidst all this buzz around the smartphone, a Korean website ETnews claims to know Samsung's strategy or roadmap for the Galaxy Note 8 availability. This report focuses on launch and availability dates of Samsung's next flagship in its home market of South Korea.
ETnews claims that the duration of pre-order of the Galaxy Note 8 will be longer than that of the Galaxy S8. The website further reports that after the launch, the Note 8 will be demonstrated at various outlets from August 25-31, so as to let consumers get a feel of the device. The report further claims that Samsung is going to hold pre-orders between September 1-10 and that the device will finally become available on September 15.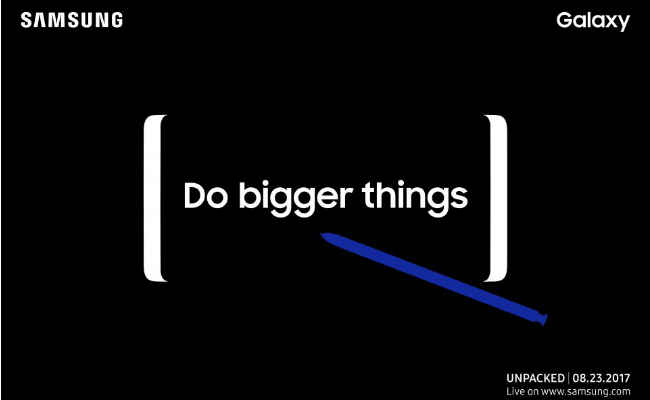 The Galaxy Note 8 is expected to sport a 6.3-inch Super AMOLED display with a Quad HD+ resolution of 2960 x 1440 pixels. The handset might feature the company's Infinity Display design, first seen on the flagship Galaxy S8 series with an aspect ratio of 18.5:9. Keeping with the tradition of the Note series, the Galaxy Note 8 may feature slightly squared-off corners as opposed to rounded corners found on the Galaxy S8+ with a 6.2-inch display.
Samsung claims that the upcoming Note 8 will be the ultimate multi-tasking device. It needs to be, as Samsung will be going up against Apple's latest upcoming iPhone. The latest Apple iPhone is expected to be unveiled early September. Consumers are most likely to go for a phone with better specs and ready availability. Samsung seems to be doing everything it can to go toe-to-toe with Apple's upcoming tenth anniversary iPhone. This is going to be a watch-worthy competition in which users are probably the winners. The company is hosting the Samsung Galaxy Unpacked event on August 23, 2017 where the Galaxy Note 8 will finally be unveiled.