Samsung has filed for a new patent at the U.S. Patent and Trademark Office (USPTO). This patent is for a smartphone that can display holographic images. The device in question, if comes to existence, will have a main body with a screen and a light guide member over the screen. Above the light guide member's surface, there will be an entrance optical member, and then above its surface, there will be an image hologram. The image hologram will be laterally spaced apart from the entrance optical member.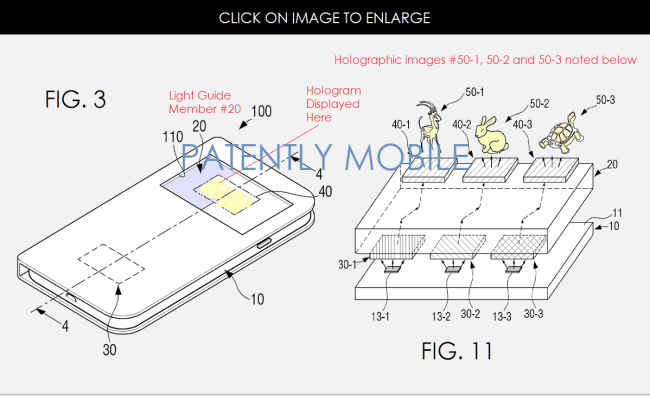 When the light will be emitted by the area corresponding to the entrance optical member, the holographic image stored in the image hologram will be displayed. It will be displayed above the light guide member. The patent was filed by Samsung in Q3 2014, and there's no word if Samsung has started on work it. So, there is no time frame on when the device will come to being.
However, if it does become a reality, then it will be really cool. Especially with futuristic tech projects like virtual reality coming up. Samsung can make it happen as well because they have introduced cool stuff before like foldable displays and curved smartphones. Last week, they were also reported to work on a huge 18.4-inch tablet.
However, if you cannot wait for your smartphone to have a holographic display. Here's has a nifty tutorial that will teach you how to make your own hologram for your smart phone.
Image source: Patently Mobile.