Smartphone industry recorded a strong rebound after contraction last quarter to ship 373.1 million units in the third quarter of 2017. According to IDC's Worldwide Quarterly Mobile Phone Tracker, the top five smartphone makers saw a positive year-over-year growth in shipments with the industry growing 7.4 percent from the second quarter. The third quarter shipments were up 2.7 percent year-over-year ahead of the holiday season and launch of flagship from Apple, Google and Huawei.
In terms of market share, Samsung continues to lead followed by Apple, Huawei, Oppo and Xiaomi. During the third quarter, Samsung shipped 83.3 million units to register a growth of 9.5 percent over same period last year. The Korean smartphone maker now has a overall market share of 22.3 percent and has seen success with the flagships Galaxy S8, S8+ and Note8. IDC observes that Samsung shipped more devices from its entry-level Galaxy J and mid-range Galaxy A series in both emerging and developed markets.
Apple announced its fourth quarter earnings early in the day with iPhone shipments coming in at 46.7 million units. The Cupertino-based iPhone maker is the second largest smartphone brand with a market share of 12.5 percent and saw a year-over-year growth of 2.6 percent. Apple's shipments are expected to grow further next quarter when the newly launched iPhone 8 and iPhone 8 Plus becomes available for an entire quarter and the redesigned iPhone X goes on sale at a retail price of nearly $999.
"As much of the focus has been on the wide range of high-profile flagship smartphones launched or announced in Q3, it is also important to look at what is happening with the rest of the industry," said Ryan Reith, program vice president with IDC's Worldwide Quarterly Mobile Device Trackers.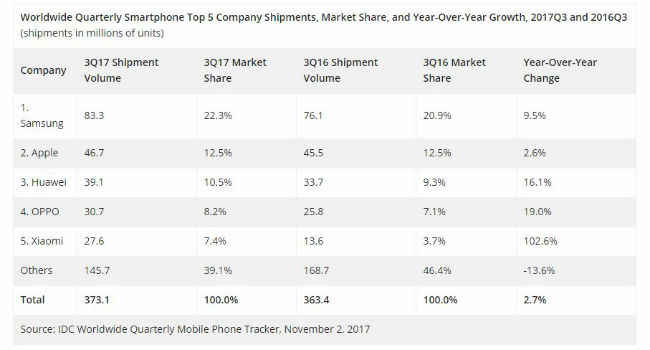 Huawei, which dethroned Apple as the second smartphone brand globally, has fallen back to third spot. The company managed to ship 39.1 million units during the third quarter to achieve a market share of 10.5 percent. The company recorded a gain of 16.1 percent in market share over same period last year. The brand saw Mate 9 and P10 flagship smartphones driving growth in the high end while its Honor brand contributed to the lower price segment. The company is challenging Apple and Samsung with the launch of its Mate 10 Pro smartphone with improved Leica-branded cameras and bezel-less design.
Oppo came in at fourth with shipments growing 19 percent over previous year to 30.7 million units. Oppo continues to grow in China and IDC believes that it will aim to strengthen its position in India, where it is the fourth major smartphone brand in terms of market share. For the Chinese smartphone maker, Oppo R11 and R11 Plus were the best selling smartphones and they seem to help it maintain the momentum.
As anticipated, Xiaomi was the strongest performer among all smartphone maker with year-over-year growth of 102 percent in smartphone shipments. The company managed to ship 27.6 million units during the third quarter to gain a market share of 7.4 percent. Xiaomi's growth continues to come from Indian market where it is inching closer to dethroning Samsung as market leader. "Discounts on most of the models along with the aggressive bank offers and easy financing options made Xiaomi's top models attractive for online purchase. In addition to its online growth, its continued expansion of its preferred partner program and MI store buildout helped Xiaomi to further cement its position in the offline space."
"With an overabundance of high-end flagships launching in the coming weeks, the fourth quarter will be extremely competitive as vendors will fight it out to win over holiday shoppers," said Anthony Scarsella, research manager with IDC's Worldwide Quarterly Mobile Phone Tracker. Apple has already offered strong forecast in terms of sales for next quarter. With Huawei also making its flagship available in most markets and Apple's iPhone X said to be available in limited quantities, the smartphone makers may see change in their market share.