Qubo Smart Home Security WiFi Camera
With Intruder Alarm System,Infrared Night Vision,2-way Talk,Works with Alexa
Click here to know more
Advertisements
Samsung Bixby, the new virtual assistant from Korean smartphone has been officially introduced alongside the Galaxy S8 and S8+. Samsung detailed Bixby ahead of the S8 launch, but it will only be available when the S8 devices go on sale. With Bixby, Samsung is taking on the growing pool of AI assistants from Apple, Amazon, Google and Microsoft.
Samsung Bixby's main attraction is the ability to take actions within apps, eliminating need for touch inputs altogether. Samsung says Bixby will be capable of doing everything possible with touch but with voice instead. At the time of launch, Bixby will only work with a few native apps like Call, Camera, Gallery, Settings, Message and third-party app like Google Music. The company says that support will widen, but that will depend on app developers.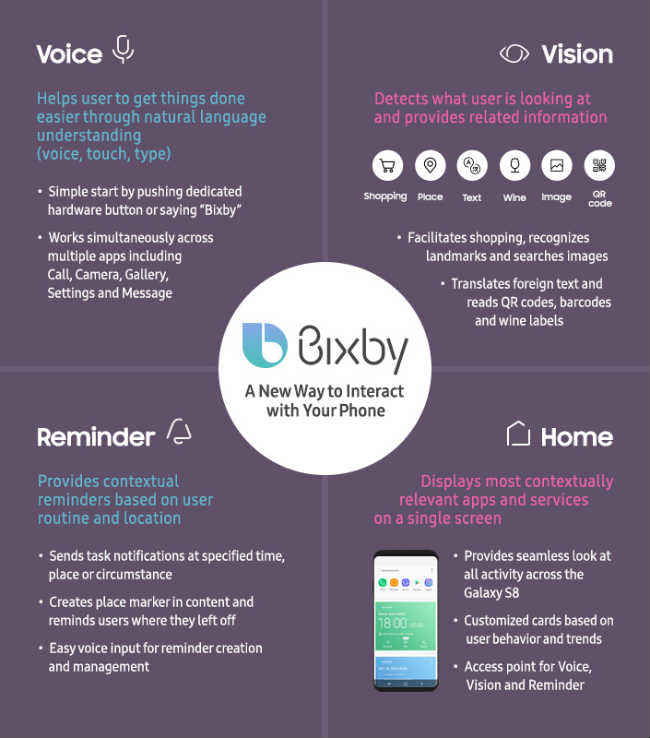 At S8 launch, Samsung also showcased Bixby Vision - a feature similar to Google Goggles or Amazon's Firefly. Bixby Vision primarily works withing S8's camera app allowing the camera viewfinder to recognise what the user is looking at and provide related information like shopping. Again, the feature will only work in 11 countries at launch and there is no word on when the service will expand to more countries. Samsung has also published an infographic detailing other Bixby features like ability to set reminder or customised access to user behaviour and trends. While Bixby isn't much different from Google Assistant or Apple's Siri, it will only support US English and Korean at launch limiting its appeal right away.
While AI assistants have been touted by smartphone makers as a big deal, the lack of language support has been a big limitation. With the latest iOS update, Apple has made Siri understand the Indian accent and on the other hand, Google Assistant is learning Hindi to reach more users. With Bixby arriving with limited language support, it is possible that this will also become a not so oftenly used AI assistant.