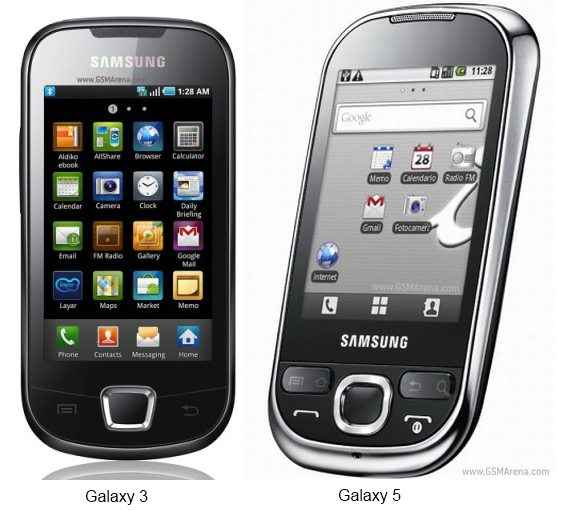 A day after Samsung released their bada smartphone, Wave, in India, the Korean giant has churned out no less than seven new phones to add to its Galaxy, Omnia and Wave armouries at the CommunicAsia2010 conference. The interesting aspect is that each line-up runs on a different operating system.
The new Galaxy phones, Galaxy 3 and Galaxy 5 based on the Android 2.1 OS, andare cheaper alternatives to the Android superphone, Galaxy S. While Galaxy 3 features a 3.2-inch touch screen sporting 240-by-400 pixels, Galaxy features a 2.8-inch touch screen with the same resolution. While both phones offer connectivity option like Bluetooth, WiFi and A-GPS, quad-band GSM and HSDPA, the camera on the Galaxy 5 is a paltry 2 megapixels as compared to 3 megapixels on Galaxy 3. The naming conventions followed by Samsung these days confuses us, as we obviously expected Galaxy 5 to be the higher-end model. However, the lower-end Galaxy 5 has a higher HSDPA transfer rate of 7.2 Mbps as compared to the 3.6 Mbps on Galaxy 3. But that aside, we expect these phones to be launched at a low price, and make the Android available to the masses. Would they be the cheapest Androids when launched?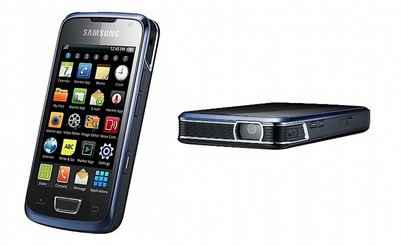 Another interesting Android 2.1 phone, the Galaxy Beam (above), is the first Android smartphone to feature a pico projector. So now you can sit back and enjoy 640 by 480 videos on a huge projection on the wall, besides featuring a 3.7-inch Super-AMOLED display. When you don't feel like entertaining the crowd, you can capture moments using its 8-megapixel camera
The Wave 2 and Wave 2 Pro, on the other hand, handsets feature Samsung's proprietary Linux-based OS, bada. Mimicking the Wave, the next iterations of the series also have 3.2 inch displays, with the Wave 2 Pro also featuring a slide-out QWERTY and high-end features similar to the Galaxy phones.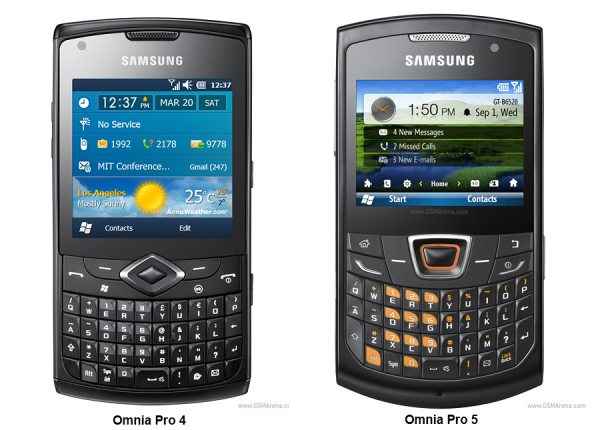 Although the industry is waiting eagerly for the roll-out of Windows Phone 7, Samsung has somehow put its trust in the old Windows Mobile 6.5 by unveiling Omnia Pro 4 and Omnia Pro 5 based on the OS. The phones have the business-phone-with-QWERTY lform factor, similar to that of E72/E73 and the Blackberry line-up. While connectivity options remain the same as Galaxy handsets, the two Omnia phones also inherit the same lopsided naming convention. Omnia Pro 4 is the higher end phone with a 3.2-megapixel camera, while the Omnia Pro 5 gets a 2-megapixel camera.
We appreciate that Samsung is churning out phones based on different operating systems, providing a great degree of choice to the consumer. But with Samsung Wave barely out, it befuddles us that Wave 2 and Wave 2 Pro are already being unveiled.