Xiaomi is getting closer to dethroning Samsung as the leading smartphone brand in the country. According to Counterpoint Research, Samsung and Xiaomi together control half of India's smartphone market with overall shipments registering a 37 percent quarter-on-quarter growth. The research mimics similar observation from Canalys, which reported that India has overtaken the US as the second largest smartphone market.
The research data from Counterpoint's Market Monitor suggests that India handset shipments reached an all-time high of over 84 million units for the first time. It says shipments were primarily driven by strong performance from Xiaomi, Oppo and Vivo ahead of the festive season and constituted both feature phones and smartphones. During the third quarter, smartphone shipments saw a year-on-year growth of 18 percent while feature phone shipments declined 4 percent over same period last year.
Samsung maintains the lead with a market share of 23 percent followed by Xiaomi with a share of 22 percent. The Chinese smartphone maker gained 16 percent in market share over the same period last year. Vivo maintains its third position with a share of 9 percent while Oppo comes fourth with a share of 8 percent. Lenovo's market share contracted from 9 percent to 7 percent and it maintains the fifth position. The market share of other smartphone makers combined has dropped to 31 percent from 53 percent year-over-year.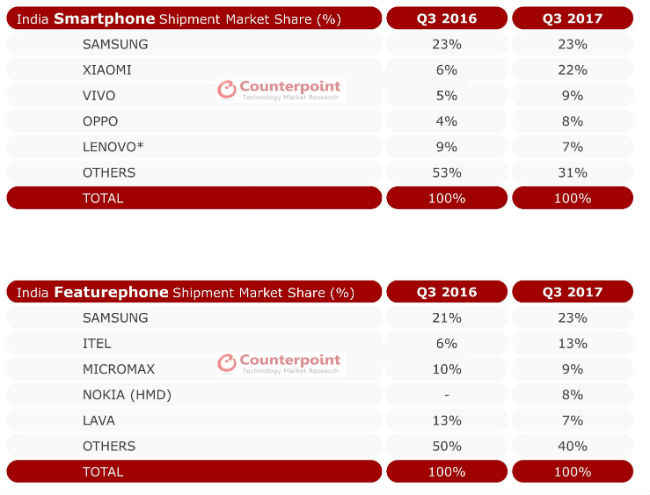 Counterpoint research also believes that there is an opportunity for handset OEMs to gain market share in India. "With strong smartphone growth and a sizeable featurephone market for at least three to four years, OEMs in India can target a diverse set of audiences," said Karn Chauhan, Research Analyst at Counterpoint Research in a statement.
Xiaomi's budget and mid-range offerings this year took the top three spot in Counterpoint's top-selling smartphones during the third quarter. Xiaomi Redmi Note 4, Redmi 4 and Redmi 4A were the best selling smartphones followed by Samsung Galaxy J2 and Oppo A37.
Samsung also maintains the lead in the feature phone segment with a market share of 23 percent but it is facing stiff competition from home-grown brands like Micromax and Lava and the new-entrant HMD Global. Samsung is followed by Itel with a share of 13 percent and Micromax with a market share of 9 percent. HMD Global, the new home of Nokia, is making a comeback at fourth place with a share of 8 percent and Lava rounds up the top five list with a market share of 7 percent.
Counterpoint Research says Samsung Music 2 was the top-selling feature phone in the country followed by Samsung Guru 1200 and JioPhone from Reliance Jio. Nokia 105 (2017) was fourth popular feature phone while Guru Plus took the fifth position in the list.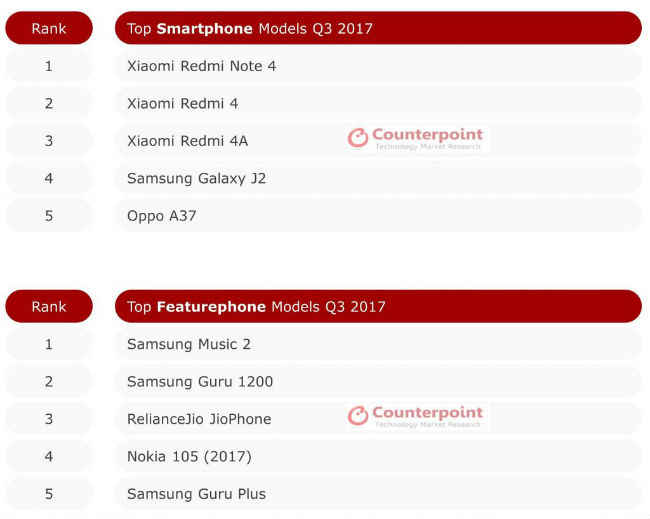 The smartphone shipments in the country are expected to grow further during the fourth quarter thanks to sales on major e-commerce platforms. Most of the sales are expected to be driven by Flipkart and Amazon but offline retailers are expected to continue their discounts even post Diwali. Xiaomi recently claimed it sold over 4 million smartphones during September-October period and it might become India's leading smartphone brand next quarter.
"Xiaomi continues to post back to back record quarters in India and create new benchmarks. Xiaomi has been popular in the past for its 'value for money offerings', however, the popularity is now transitioning into performance compared to last year," said Tarun Pathak, Associate Director, Counterpoint Research.
Counterpoint also reflects on sentiment detailed by Canalys suggesting Xiaomi's move from a value for money smartphone maker to a premium smartphone brand. OnePlus maintains the lead in the premium smartphone segment but it is expected to face pressure from Xiaomi's Mi Mix 2. Apart from smartphones, feature phone segment could once again become dominant with the delivery of JioPhone to those who pre-ordered the device in August.