The BlackBerry Bold 9900 now will be seen sporting a white colour.
Research In Motion (RIM) has launched white variant of its BlackBerry Bold 9900 in India. The Bold 9900, also the first BlackBerry phone to feature built-in NFC connectivity, was launched in August this year. The white BlackBerry Bold 9900 is available at RIM's authorised retail stores across the country.
To refresh your memory, the BlackBerry Bold 9900 features a 5MP camera onboard capable of 720p HD video recording, 3G/Wi-Fi/GPS/Bluetooth/microUSB/NFC connectivity, an optical trackpad, a document editor and 8GB of built-in storage space. The device also comes with a 1,230 mAh battery, which is rated to deliver 6.5 hours of talktime. The device also features BlackBerry 7 OS, single-core 1.2GHz processor, and 768MB of RAM. Check out more features of the BlackBerry Bold 9900 here.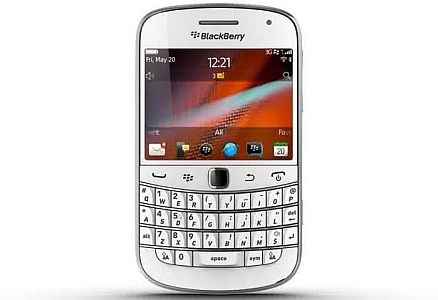 The BlackBerry Bold 9900 had received overall seven out 10 ratings in our detailed review. The phone received accolades for its brighter and vivid display. Besides the sleek form factor, the Bold 9900 comes with a better QWERTY keypad. The BlackBerry Bold 9900 is available at a price tag of Rs. 33,360.
Also read,
BlackBerry Bold 9900: Hands-on with the latest Bold
Blackberry Bold Touch 9900 Review
Unofficial BlackBerry v7.1 features mobile hotspot support


Vote and Win!

Digit Icons of Trust 2011 Survey

Visit http://thinkdigit.com/trust to vote for your favorite tech brands in India.
Survey participation gives you a chance to win exciting gifts like wireless input devices, earphones and special edition Digit branded T-shirts.
As an appreciation of your valuable time and input, every participant will receive an assured gift in the form of Digit discount vouchers.
We encourage you to participate in multiple surveys to increase your chances of winning more goodies.