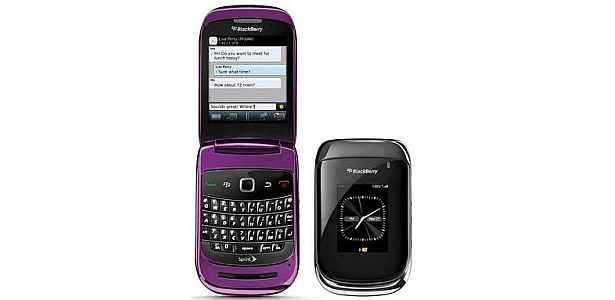 RIM has launched a new CDMA-based BlackBerry phone in India, called the BlackBerry Style 9670. Running on the latest BlackBerry 6 operating system, the BlackBerry Style has a unique form factor – a flip-QWERTY design with dual high-resolution displays, on both sides of the lid.
The BlackBerry Style 9670 will be available with bundling through Tata Indicom, MTS, and Reliance Communication, currently the only CDMA providers in the country. It is priced at Rs. 24,990. The phone was first released globally in November last year.
Specifications of the device include a 2-inch screen on the outside with a 240x320 pixel resolution, meant for viewing 'glance-and-go' data like notifications, time, and messages. On the inside, the phone has a 2.7-inch screen with a 360x400 pixel resolution. An optical trackpad also features, as well as a 5MP camera with flash, GPS connectivity, Wi-Fi b/g/n connectivity, and expandable storage up to 32GB via microSD card (8GB card bundled).
It features a 1,150 mAh Lithium-ion battery that is rated to deliver up to 4 hours 30 minutes of talktime, 264 hours of standby time, and up to 14 hours of continuous music play. No details of the processor or memory have been revealed.
[RELATED_ARTICLE]While the BlackBerry Style 9670 is a 3G-enabled CDMA phone, 3G CDMA service haven't yet been rolled out in India, and so, for a while, the phone will only be useful with Wi-Fi, GPRS/EDGE, and BlackBerry's data services. It comes with a bunch of applications pre-installed, including a document editor, apart from Facebook, MySpace, Twitter, and YouTube. It apparently also has a brand-new WebKit-based browser that supports the latest web standards, including HTML5.
Speaking on the occasion of the launch, RIM India MD, Frenny Bawa, said:
"The CDMA segment represents a significant portion of the overall mobile subscriber base in India and we are pleased to further our commitment to Indian consumers with the introduction of this powerful and stylish BlackBerry smartphone...a new and exciting choice for customers, offering an attractive flip design and an intuitive user experience powered by the new BlackBerry 6 operating system."