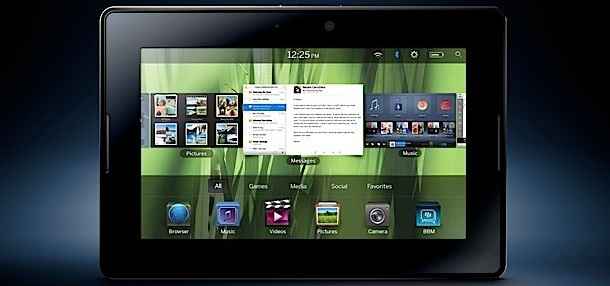 Not BlackPad, not SurfBook…RIM did well to keep the name of its 7-inch tablet a secret until its announcement early this morning at the BlackBerry Developer Conference. Called the BlackBerry PlayBook, RIM's tablet was introduced to the world by CEO Mike Lazaridis, and it will sport a brand new operating system that's called the BlackBerry Tablet OS, made by QNX – an infotainment company RIM recently acquired.
[RELATED_ARTICLE]Speaking about how well the BlackBerry Tablet OS will perform in the real world, Lazaridis went on to say that "QNX is going to enable things that you have never seen before," and that its devices, starting with the PlayBook, will be "an incredible gaming platform for publishers and the players." The similarity of the BlackBerry Tablet OS (we already find ourselves regretting the length of the name) with webOS and the BlackBerry OS are unmistakable, and many blogs have commented that it appears to take the best of both worlds. An example of the webOS type multitasking is evinced with the "card" type interface.
Mike Lazardis, commenting on the ability of the BlackBerry Tablet OS, said that while the PlayBook tablet is the "first professional-grade tablet", it will be able to provide a wide variety of multimedia and gaming functions, and shall be "an amplified view of what's already on your BlackBerry." This is because the tablet will be able to use data from your BlackBerry handset via Bluetooth, and, there was mention of easy synching, hinting that customers could "use their tablet and smartphone interchangeably without worrying about syncing or duplicating data."
As for apps, there aren't too many as of now, but Amazon has already announced a Kindle app for the PlayBook. RIM also released the WebWorks SDK (a platform with HTML5, CSS, and Javascript support), which should enable developers to create applications that will work both on BlackBerry 6 OS and the BlackBerry Tablet OS. Interestingly, RIM has also opened up its BlackBerry Messenger platform, allowing third-party developers to tap into it while creating their apps. BBM is also being positioned as a platform for multiplayer gaming.
While the tablet currently features only Wi-Fi connectivity, RIM said it intends to offer 3G and 4G models in the near future. Apart from this and the GPS omission (it's possible they just forgot to mention it), the tablet certainly seems very capable, and features like 1080p HD video playback and support for both Adobe Flash 10.1 and HTML5 truly make it standout against the iPad, and to some extent, the 7-inch Galaxy Tab. As for pricing and availability, RIM has remained characteristically tight-lipped about the whole thing, not mentioning anything more than a tentative launch date of "early 2011." This also tells us to compare the BlackBerry PlayBook with the upcoming iPad 2, also due out in early 2011.
Check out the specifications of the device below, along with more images, and a preview video that should give you a good look at the operating system:
click to enlarge

| | | | |
| --- | --- | --- | --- |
| | | | |
| | | | |
Display: 7-inch LCD, 1024 x 600, WSVGA, capacitive touch screen with full multi-touch and gesture support
OS: BlackBerry Tablet OS with support for symmetric multiprocessing
CPU: 1 GHz dual-core ARM Cortex A9-based processor
Memory: 1 GB RAM
Storage: 16GB/32GB internal
Camera: Dual HD cameras (3 MP front facing, 5 MP rear facing); supports 1080p HD video recording; video conferencing
Video support: 1080p HD video playback; H.264, MPEG, DivX and WMV formats
Audio support: MP3, AAC and WMA formats
Connectivity: microHDMI out, microUSB 2.0, Wi-Fi - 802.11 a/b/g/n, Bluetooth 2.1 EDR
Software support: WebKit/HTML-5, Adobe Flash Player 10.1, Adobe Mobile AIR, Adobe Reader, POSIX, OpenGL, Java
Dimensions: 130mm x 193mm x 10mm
Weight: approximately 0.9 lb or 400g