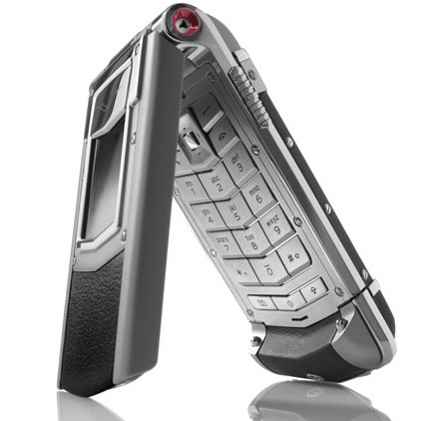 Vertu isn't a name that the average Joe carries around on his cell phone. In fact, it isn't a name that some of the richer Joes carry around. The mobile phone is the premium of premium phones; the Rolls Royce of the handset industry. And for the first time in its illustrious history, the company has rolled out a flip-phone: the
Constellation Ayxta
.
It's a bit surprising that Vertu has taken so long to come out with a clamshell phone, especially given the style points such handsets have. But it looks like the company has taken its time to come out with a model that's so perfect, it's hard not to be amazed.
As with all Vertu models, the Constellation Ayxta comes with a stainless steel chassis with aluminium detailing, as well as leather and ceramic accents. The trademark crystal sapphire screen is intact, with a 1.3-inch external display (128x160 pixels) and a 2.4-inch internal display (320x480 pixels).
The new device comes with a 3-megapixel camera with LED Flash, a microSD slot for cards up to 8GB, 3G connectivity and GPS.
But the real sellers are the two Vertu services it comes with. As with all its phones, the Constellation Ayxta avails the user of the Vertu Concierge – a button to contact a 24-hour concierge service, which connects the user to a "lifestyle manager" who can book plane tickets, order gifts or sort out a plumber at short notice.
The second service is the newly-introduced Vertu City Brief. When a customer arrives in a new country, the handset uses the GPS to automatically alter the clock to the local timezone and inform the user of the best new restaurants, plays, concerts and events happening in that city that week. Businessmen will also be informed of the local business etiquette.
Of course, as usual, all this comes at a hefty price. To be able to afford the Vertu Constellation Ayxta, you better have a credit card with no limits: this one will set you back by an incredible 4,900 euros, which comes to roughly Rs. 3.45 lakhs!