Founded by Pete Lau, a former Oppo Electronics VP, OnePlus has finally unveiled its Nexus-killer called One. Even though the specs of the upcoming smartphone have been known for a while, the company was yet to reveal its price. The startup has now revealed the price as well and looking at the announced prices of $299 for the 16GB and $349 for the 64GB models, One is clearly going to give major manufacturers a run for their money as it costs almost half the price of others' flagship smartphones.
OnePlus is also offering discounts to earliest buyers among whom some might even get the new One for as low as $1. But for that, you have to "smash" your old phone!
Despite featuring in a mid-range price category, the specs on the One are very high-end. The One comes with a 2.5GHz Qualcomm Snapdragon quad-core Krait 400 processor. It features Adreno 330 for high-end graphics and a 5.5-inch full HD IPS LCD display with 401ppi. The display panel is protected with Gorilla Glass 3 protection. It has plenty of RAM at 3GB and comes with 16GB and 64GB variants. Another killer-feature of One is its 4G LTE, HSDPA, GSM and CDMA support which makes it a world-phone. Also, it doesn't come with a stock or company UI. The One features CyanogenMod 11S which has been slightly customized for the smartphone. The ROM is based on Android KitKat 4.4 and comes with endless customization options that CyanogenMod has always been very popular for.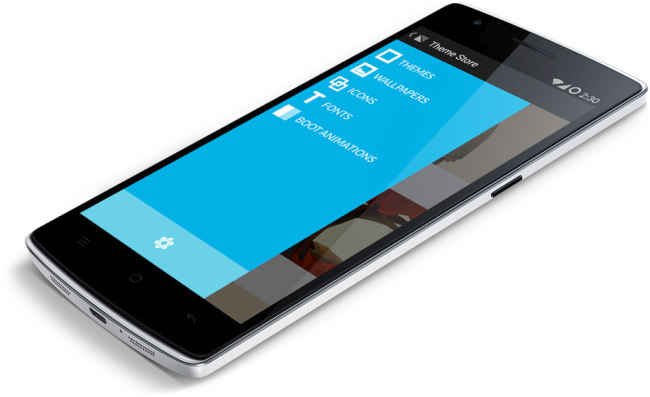 The OS features some cool features like SMS encryption, themes, app privacy guard, audio equalizer, file manager, enhanced camera app and plenty of gestures for launching various apps and functions. It also features Google Now which is activated by the voice command "OK,Google". Lau has said that OnePlus is open to working with other ROM makers in China, including MIUI (by Xiaomi) and Smartisan OS so that it can offer more options to its users.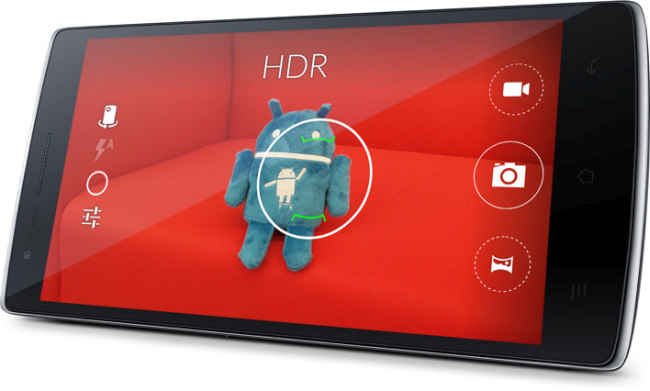 One is even expected to satisfy camera enthusiasts with its 13MP camera which cames with a Sony Exmor IMX214 sensor with a 6-lens module and dual LED. It is capable of shooting 4K video and 720p slow-motion videos at 120fps. On the front, it features a 5MP wide-angle camera with loud stereo speakers from JBL. It also comes wih three microphones featuring noise cancellation for excellent call quality.
The phone even comes in multiple back cover options.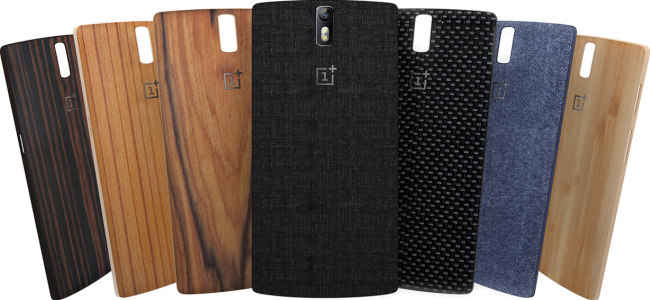 Check out OnePlus' promo video of the One smartphone:
The few things that the One is missing are a microSD expansion slot, USB 3.0 and Quick Charge 2.0. The design of the phone looks similar to Oppo phones like the Find 5. Lau says that his team has extensively focused on each and every aspect of the smartphone. He says that his team spent almost four months just to fine tune the USB cable for the One in order to get the perfect texture, plug design and other small details. "You can use all sorts of marketing tactics, but when you're back to making a product, you must take users' actual needs into consideration," Lau said. "They are the ones who will actually use it, so they know best. You can exaggerate when you're selling a product, but when the buyers use it and are left disappointed, they'll still complain, right? he says.
Let's compare the specs of the One with other high-end flagship smartphones to see how good it really is when it comes to specs on paper:
| | | | | |
| --- | --- | --- | --- | --- |
| Model/Specs | OnePlus One | Nexus 5 | Samsung Galaxy S5 | HTC One (M8) |
| CPU | 2.5GHz quad-core Snapdragon 801 | 2.26GHz quad-core Snapdragon 800 | 2.5GHz quad-core Snapdragon 801 | 2.3GHz quad-core Snapdragon 801 |
| GPU | Adreno 330 | Adreno 330 | Adreno 330 | Adreno 330 |
| RAM | 3GB | 2GB | 2GB | 2GB |
| OS | CyanogenMod11S | Android 4.4.2 | Android 4.4.2 | Android 4.4.2 |
| Display | 5.5" IPS LCD (FHD), 401ppi | 5" IPS LCD (FHD), 445ppi | 5.1" AMOLED (FHD), 432ppi | 5" Super LCD 3 (FHD), 441ppi |
| Camera F/R | 13MP/5MP | 8MP/1.3MP | 16MP/2MP | 5MP/4MP (Dual |
| Storage | 16GB/64GB | 16GB/32GB | 16GB/32GB (Expandable) | 16GB/32GB (Expandable) |
| Battery | 3100mAh | 2300mAh | 2800mAh | 2600mAh |
| Price | $299(16GB), $349(64GB) | $349(16GB), $399(32GB) | $699(16GB), $800(32GB) | $699(16GB), $799(32GB) |
The One will be launched in late May and will initially be available in Austria, Belgium, Denmark, Finland, France, Germany, Hong Kong, Italy, Netherlands, Portugal, Spain, Sweden, Taiwan, the UK, and the US. The company is yet to announce when and whether the smartphone will be available in India.
Learn about the $1 offer (by smashing your phone) by registering here.