Through a tweet sent out by India Today senior journalist Chaiti Narula on Wednesday, the news of a OnePlus One smartphone that spontaneously caught fire earlier that day has been doing the rounds on the internet. Rahul Himalian, the owner of the OnePlus device in question, claimed in his message to OnePlus Care that the device was in "switched off" and "unplugged mode". OnePlus has since responded to the unfortunate OnePlus user in a statement to Digit.
"We take such incidents seriously. Our team has already reached out to the user and is investigating this further," says OnePlus India in its official statement. In his original message to OnePlus Care, Himalian wrote that he "was woken up suddenly by suffocating and nauseating fumes" that came from his "fuming and flaming" OnePlus One smartphone in the early hours of Wednesday. He added that his air conditioner was turned on at the time and that the room temperature was 19 degrees Celsius.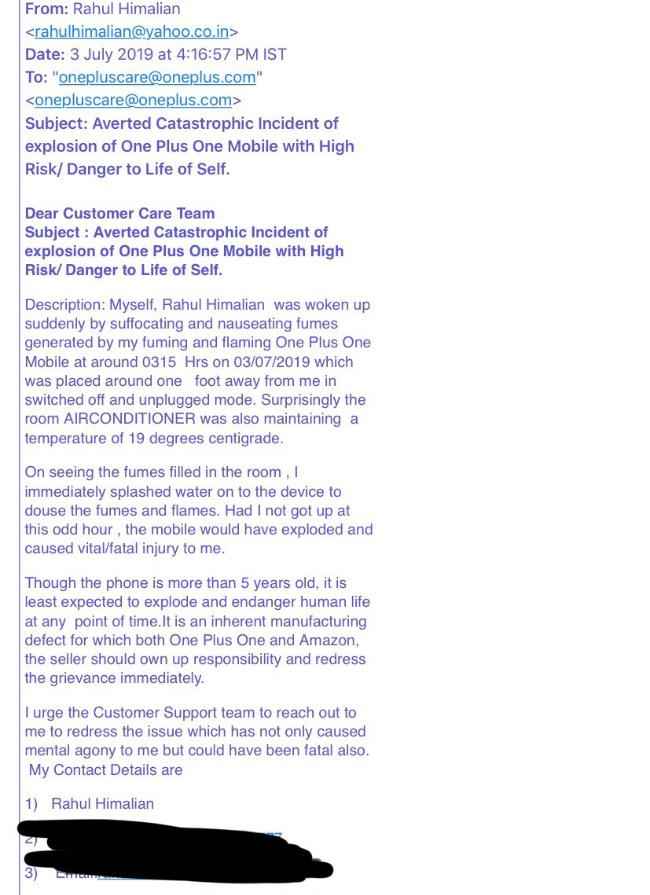 Himalian added in his message to OnePlus Care that his OnePlus One was over five years old when the incident happened. When he saw fumes fill the room up, he splashed water on the burning device to put the fire out. Himalian's message, which was sent to OnePlus Care, expresses the user's disappointment and chagrin over the incident. "I urge the Customer Support team to reach out to me to redress the issue which has not only caused mental agony to me but could have been fatal also," reads the last line of his message.
OnePlus One is the very first model designed and manufactured by the popular Chinese smartphone manufacturer, whose current models include the recently launched OnePlus 7 and OnePlus 7 Pro. The OnePlus One, which has no past history of a battery defect in particular, features a non-removable 3100mAh lithium-ion polymer battery. The OnePlus One was originally unveiled in 2014. It's powered by a Qualcomm Snapdragon 801 chipset with 3GB of RAM. Internal storage ranges from 16GB to 64GB.