OnePlus generally does its best to ensure that even non-current smartphone models receive all the new features as the current models. Here's yet another example of such an effort. OnePlus announced yesterday on the OnePlus Forum that it had begun rolling out OxygenOS 9.0.8 to the OnePlus 6 and OxygenOS 9.0.16 to the OnePlus 6T(₹ 32999 at amazon). The update includes a few new features and improvements, some of which are found on the OnePlus 7 Pro, the current OnePlus device.
According to the changelog published by the Chinese phone manufacturer, the new OxygenOS update brings a new quick reply feature for landscape mode, which must first be enabled in Settings; you can find it in the Utilities section. Note that the feature only works with supported messaging apps, like WhatsApp. In addition, the update brings password protection for the Hidden Space in the app drawer. The update also introduces Fnatic mode for a less distracting gaming experience and Zen mode for a quick break from everyday mobile phone communication.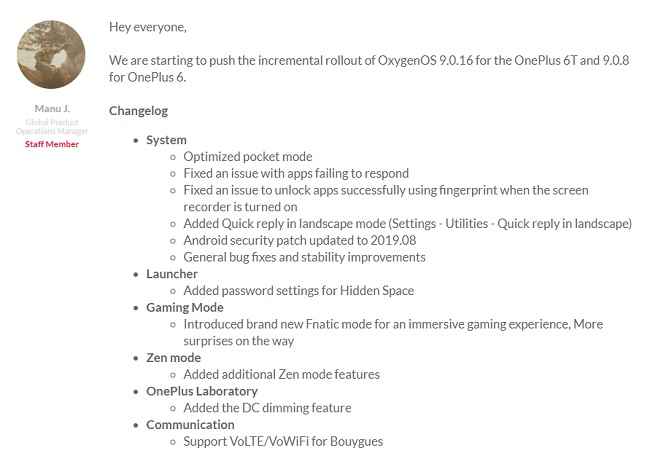 Complete changelog published by OnePlus
What's surprising is that OnePlus has included DC dimming in the update, a feature designed originally for the OnePlus 7 Pro. DC dimming basically lowers the amount of power being sent to the display at lower brightness levels. As opposed to phase-width modulation (PWM), which is the traditional method of dimming an LCD or OLED screen, DC dimming saves more power at lower brightness settings. The update also brings a few improvements to features like pocket mode and screen recorder.
"As always, this OTA will be incremental. The OTA will reach a small percentage of users today, and we'll begin a broader rollout in a few days," writes OnePlus in its Forum, which means that if you haven't already got an update notification on your OnePlus 6 or 6T, you'll have to wait for a few days. Eager beavers can go to Settings > System > System updates to check for an update manually but may have to wait anyway if OnePlus still hasn't pushed it out. The update is expected to be about 500MB in size.