OnePlus has announce that OnePlus 2 will launched via a livestream through VR on July 27.
After months of teasing OnePlus is finally launching its new phone on July 27, exactly one month from today. The company, which has already revealed some key specs of the phone, will launch the OnePlus 2 via livestream but there is a small twist to it. The entire launch will be done in VR. The company earlier announced that the OnePlus 2 will be launched in Q3 of this year and if this launch is not delayed, then we may soon see the world's first mobile phone launch in VR. In order to watch the event, the company has made a cardboard, similar to the Google Cardboard. The company claims that it has made some improvements and tweaks to Google's version to accommodate the OnePlus One.
OnePlus has already put up a page regarding its cardboard, with its price currently at $0.00 + shipping and with availability being "available soon". Moving on to the phone, OnePlus has already confirmed that the OnePlus 2 will sport a Qualcomm Snapdragon 810 SoC which has been getting flak over its heating issues. However, the company has clarified that it is using a newer version of the SoC and some thermal countermeasures to avoid the issues. Another main feature that was revealed recently was the USB Type-C port. In the corresponding forum post, the company also revealed that it has further improved the Type-C standard and patented it.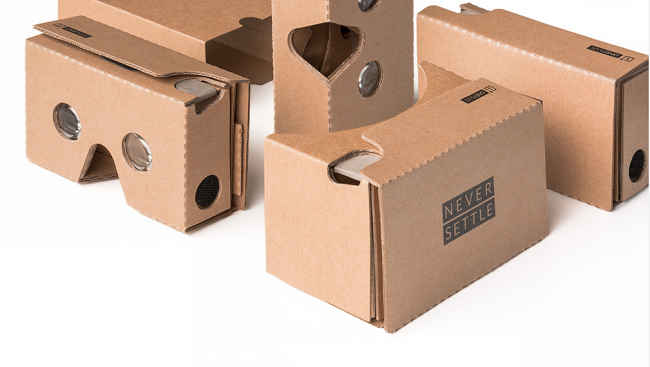 The OnePlus 2 will be the second phone by the company after the successful OnePlus One. The OnePlus One is still one of the best phones to buy under the 25K price mark. In response, Motorola lowered its flagship Moto X (2nd gen) prices to compete with the OnePlus One and the Xiaomi Mi 4. On the same note, OnePlus co-founder Carl Pei has already revealed that the upcoming OnePlus 2 will cost a bit higher than the OnePlus One. However, since this is OnePlus we still expect that the OnePlus 2 could be the most affordable flagship with a Qualcomm Snapdragon 810.
Taking into account recent leaks of Motorola phones and an expected Sony launch, we could see other phone manufacturers launch their new flagships with the Qualcomm Snapdragon 810 in the coming months. Apple is also expected to launch its rumoured iPhone 6S in a couple months at their annual event, which like every year, is scheduled for September. All in all, we will have all flagship smartphones tussling for the top position in a few months.
Source: OnePlus Forum