Vostro 3501
Popular tech to stay connected anywhere. Save more on exciting Dell PCs.
Click here to know more
Advertisements
Calling out everyone to whom a mobile phone is nothing more than a means for voice communication -- from hello to goodbye. Talk time for those who just want to talk has always been an issue with current phones: sure these fancy devices can do everything from Facebook to email but expecting their charge to last beyond one day is as good as believing in miracles. Fear no more, here comes the Olive FrvrOn - a dual-powered, low-cost mobile phone from Olive Telecommunications.

After the market release of the Olive Zipbook - a range of 3G-capable netbooks for Indian customers, Olive is now offering a new mobile phone handset that is stated to be India's first mobile to have a hybrid power source. What does hybrid power mean for us? You can add a AAA-sized standard battery in case the internal Li-Ion battery runs out. But, in case you were wondering how AAA batteries are different from just carrying another set of Li-ion for your phone, here's the kicker: the power source is hot-swappable and you don't need to switch off the Olive FrvrOn phone to replace the battery. It can even be done while attending a call!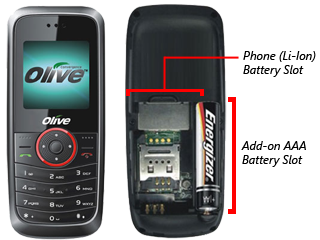 The Olive FrvrOn is not a monster on features though, nor is it meant to be. Its primary focus, is to be a solution for those who want to talk on the phone, as well as to be a means of communication to those living in poor power conditions with regular blackouts... Priced at Rs 1,699, the Olive FrvrOn has a 1.5-inch color display along with FM Radio, and a polyphonic stereo speakerphone.