Google Nexus wireless charger spotted on the Google Play store for Rs 3,299.
Google has now listed its accessories for the Nexus devices on its Play Store (India). The Nexus wireless charger on the Play Store India for Rs. 3,299. The charger is listed as 'coming soon' but no word has been mentioned on the availability of the device.
The Nexus wireless charger has sleek dimensions of 60x60x12.5mm, weighs 105 grams and is available in Black color. It is compatible with Nexus 7 (2013) tablet, Nexus 4, and Nexus 5 smartphones.
Google is aggressively launching its range of accessories for Nexus Devices. Apart from the Nexus Wireless charger, Google has also launched the Nexus 5 Bumper Case, LG Quick Cover, Nexus 7 Folio and Nexus 7 Sleeve accessories for the Indian market in November last year.
The Bumper Case for Nexus 5 is available at Google Play Store for Rs. 2,499. As per the listing, the case has a hard outer shell and soft rubber lining for protection and works with the Nexus Wireless Charger. The bumper case has holes for the charger and speakers. It is available in four colour variants - Black, Grey, Red and Yellow.
The LG Quick Cover for Nexus 5 is available for Rs 3,299. The LG QuickCover also works with the Nexus wireless charger and protects your Nexus 5 against bumps and falls. It is available in two colours- Black and White.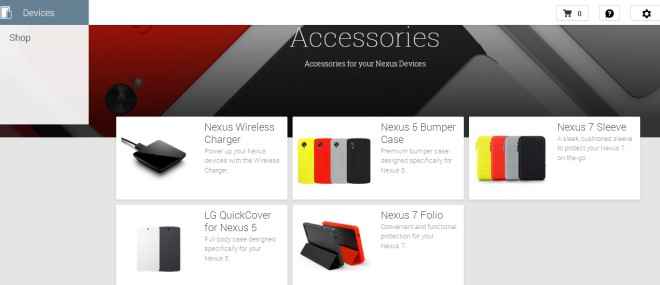 The Nexus 7 Folio is listed for Rs 3,299 and has a coming soon tag. According to the listing the folio features an open back bumper-style case with a trifold cover that gives two comfortable viewing angles. It works with the wireless chargers. The Nexus 7 Folio is available in Black and Red color variants.
The Nexus 7 Sleeve is priced at Rs. 1,999 and is listed as 'coming soon'. It has an asymmetrical zipper and is padded to protect your device from scratches. The accessory will be available in four colours - Black, Red, Grey and Yellow. The Nexus 7 Sleeve works with the Nexus 7 (2012) tablet.
Google unveiled the Nexus 5 smartphone in November last year. The device has a 4.95-inch True HD IPS Plus display with a 1920 x 1080 pixel resolution. It has a 2.26 GHz quad-core Qualcomm Snapdragon 800 processor and runs on Android 4.4 Kitkat. The smartphone features an 8 MP rear camera and a 1.3MP front camera. The Nexus 5 16GB model is available for Rs. 28,999, and the 32GB variant is launched for Rs. 32,999 in India.
Source: Google Play Store