An article describing the release of the Nokia X2 in India, a 5MP entertainment phone to be retailed by the end of June, at approximately Rs. 5500.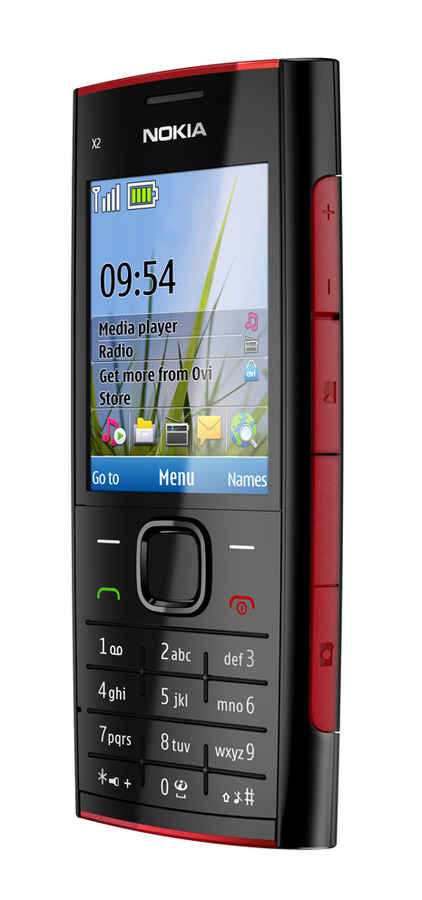 The latest phone in Nokia's X series, the X2 is a neat and compact candybar phone with a 5MP camera, weighing just 81grams and measuring 13mm in thickness. Priced at <a rel="nofollow" data-cke-saved-href="http://conversations.nokia.com/2010/04/29/nokia-x2-lands/" href="http://conversations.nokia.com/2010/04/29/nokia-x2-lands/" "rel="nofollow">around Rs. 5500, the X2 will have one year of free Ovi Unlimited Music, and shall retail by the end of June. Here's hoping that it is timed so, to come along with DRM-free music.
Featuring a 2.2-inch QVGA screen, the X2 is a great entertainment phone that has dual integrated speakers, FM stereo, dedicated music keys, 3.5mm headphone jack, and up to 16GB of expandable microSD storage. It also offers great connectivity options, perfect for media sharing, such as Bluetooth 2.1 support, as well as full speed microUSB 2.0. It supports easy music transfer on the Ovi Player PC client, or Windows Media Player 11.
The entertainment phone also has some nifty social networking and instant messaging tools, such as a native Facebook client, and Nokia Messaging for emails and chat. Users of the phone will also have instant access to apps from Ovi Store. Find more images in the picture gallery below.