Nokia has said that even though its new Android phones do not run Google Services and have its own app store to download apps, the phones are still compatible with almost 75 percent of all the Android apps.
The Finnish smartphone manufacturer is now telling developers to submit their .apk files to the Nokia Store so that they are available on Nokia's own app store for the new Nokia phones.
Nokia recently released the Nokia X, X and XL without any access to Google Play Store and is now trying to follow Amazon's Kindle Fire OS path which might be irritating to many users.
To woo developers, Nokia has released the 'Nokia X services SDK' for developers which can be downloaded from here.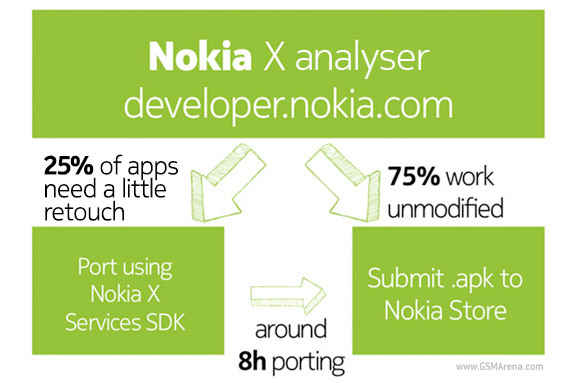 Image courtesy: GSMArena.com
To make the work for developers even easier, Nokia has also launched a page where developers can check the compatibility of their apps with the new Nokia Android phones.
Nokia says that the most common compatibility issue in apps are their usage of Google Play services. Live wallpaper APIs have also been reported to be incompatible. Like Google apps, many Amazon apps are also incompatible as they require their own Amazon services.
Regarding the rest of the 25 percent incompatible apps, Nokia says that these apps need a little retouch which could take around 8 hours to port.
Check out our list of the best Nokia phones here.