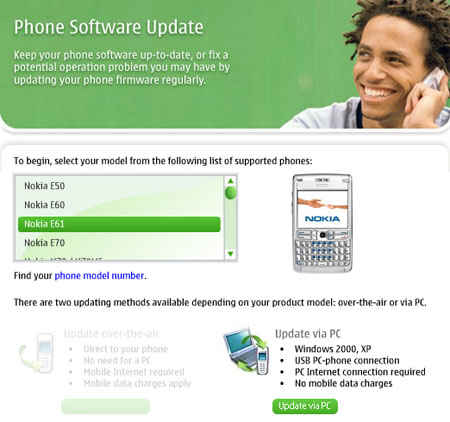 Nokia has released firmware updates for its popular handsets, Nokia N97, Nokia E71 and the Nokia E66. The users of Nokia E71 and Nokia E66 can now update to v500.21.009, and those using an N97 can update it to v.22.0.110. The new firmwares would introduce some minor updates, bug fixes and improvements here and there. Although no change-log has been provided for the N97 upgrade, the change-log of the E-series phones indicates no wholesale changes or improvement in interface, ensuring that Symbian still stays at the tail of the pack of new operating systems.
The E-series update will include an upgraded music player, Quick Office v6.2, Ovi Store and Lotus Notes traveler v8.5.1. Mapping issues on the keyboard have been corrected for many local languages and new features added to Nokia IM chat. Nokia has also fixed issues with world clock, Bluetooth link with car-kit (no more dropped calls), correction in CMCC Java application download, opening of links with appended space characters, and selection of correct mailbox among multiple mailboxes. The update will remove Windows Live from the phones, include Ovi Suite on the memory card and offer upgraded Start Up settings baseline.
The phones can be updated over-the-air (from the phone itself) or by using Nokia Software Updater that comes with Nokia Ovi Suite. The N97 features the user data preservation (UDP) feature, but you must backup all your data manually, before you upgrade the E-series phones, which do not have this feature. Charge your phone before you update it, and do share experiences of better (or worse) performance after the firmware update with us.