Vostro 3501
Popular tech to stay connected anywhere. Save more on exciting Dell PCs.
Click here to know more
Advertisements
It looks like Nokia is set to expand its Windows Phone lineup with new handsets after launching Lumia 800 and Lumia 710. A new Nokia device, dubbed as Fluid, has been spotted on a website with Windows Phone platform.
At the Game Stats page, the Nokia Fluid is featured along with the Qualcomm Fluid hardware, which probably means the handset is equipped with a Qualcomm chipset inside. The site has no detailed information about the hardware of the forthcoming Nokia device.It's notable that the list also has Lumia 719, another rumoured Windows Phone device.
Nokia has officially confirmed three Windows Phone based handsets namely Lumia 710, Lumia 800 and Lumia 900. A low-cost Lumia 610 is also said to be in the works. The device, destined for Asian and African markets, is speculated to be launch in coming months. The Lumia 610 is being touted as the first low-cost Windows Phone handset, sporting an 800MHz Snapdragon S1 processor, 256MB of RAM, and 8GB of built-in storage. Read our previous coverage on the Lumia 610 here.
Nokia is also planning to launch a non-4G version of its Lumia 900 in India in future. The device Lumia 900 is expected to be priced at roughly Rs. 31,500 in Indian market and is going to be pitted against the likes Samsung Galaxy S II and Apple's iPhone 4S. Read more about the Lumia 900 here.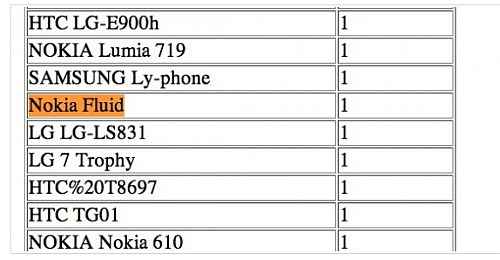 Also read,
Nokia India rolls out PR v1.2 update for Lumia 710, 800 smartphones
Nokia bundles premium apps and games with select smartphone models
Leaked image of Nokia Lumia 719 surfaces online