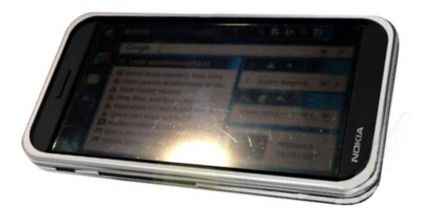 A leaked image of the rumoured Nokia N920 phone
We have been behaving like giddy little schoolgirls since Nokia announced their upcoming super-phone and its operating system,
N900 and Maemo 5
. That's right, we are fanboys of the unreleased N900 (as stupid as that sounds) and not ashamed to admit it (as even stupider as that sounds).
Now, the Finnish giant wants to make us squeal with delight as rumours are popping up on the Internet – starting at a Chinese website, of course – about the successor to the N900.
The rumoured N920 looks like it's set to take on the iPhone and HTC Touch HD2 head-on, by dropping the slide-out keyboard that the N900 sports and increasing the screen size to a larger 4.2 inches. The most heartening aspect is that the screen is rumoured to be capacitive, in line with Nokia's recent love for the thumb-friendly touch technology, which was proclaimed with
Nokia X6
.
According to
CnBeta
, which broke the news, most of the other hardware will probably remain the same as the N900. There's hardly a reason to complain with that, since it means the N920 would come with a 600MHz ARM Cortex processor, 5-megapixel camera (Carl Zeiss optics, dual LED flash), 32GB onboard storage, GSM SIM card slot, and almost every other feature you can think of.
The one surprising mention in the article is that the N920 would be running on Maemo 6. This claim doesn't go down well with us and we advise a bit of skepticism, as it doesn't seem likely that Nokia would come out with a new version of the operating system just months after announcing the Linux-based Maemo 5 on the N900.
GSMArena
points out that whether it's running Maemo 5 or 6, the large screen and lack of keyboard would mean that Nokia comes out with lots more portrait-mode support, since the N900 is largely based on landscape mode.
Still, a Nokia phone running on Maemo 5 with a large capacitive touchscreen sounds like the coolest phone we have ever heard of. Needless to say, any details about when it's going to be out will be subject to a confirmation of the N920 existing at all.
Image Credit: NokiaPort.De