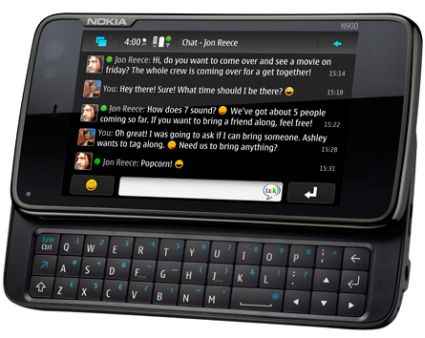 We're tired of talking about potential iPhone killers. It's been three years now and no one has come close enough to challenge the Apple of our eye, so while the new Nokia N900 has finally been officially unveiled and looks like the best bet so far, we will hold of on being soothsayers till the phone is actually in our hand.
In terms of hardware, the Nokia N900 matches or betters the iPhone in every segment, other than the thickness due to the physical Qwerty keyboard, which stands at 18 mm as compared to iPhone's 12.3 mm. The height and the width of the N900, though, are lesser than Apple's flagship device: 110.9 x 59.8 mm to 115.5 x 62.1 mm.
The screen size remains the same at 3.5 inches, but the N900's resistive touchscreen offers a much better resolution of 800x480 pixels. In a video preview by the Nokia press team, the screen seemed to be quite responsive to thumb-based navigation, which has been a point that a lot of Nokia users have complained about. Perhaps it's the Maemo interface, but either way, it looked quite good. Still, it's a public relations video, so we will wait till we have the actual device in our hands before we believe the hype.
Other features include:
OS: Maemo 5
Camera: 5-megapixel, Carl Zeiss optics, autofocus, Dual LED flash, video light, geo-tagging; WVGA (848x480 pixels) at 25fps
Storage: 32GB, expandable up to 48GB via microSD
CPU: ARM Cortex A8 600 MHz, PowerVR SGX graphics; 256MB RAM
Connectivity: 3G, Wi-Fi, EDGE, Bluetooth v2.1 with A2DP, microUSB
GPS: GPS with A-GPS support, Ovi Maps
Others: Physical Qwerty keyboard, 3.5mm audio jack, Stereo FM radio, document viewer, multimedia player, digital compass
Maemo 5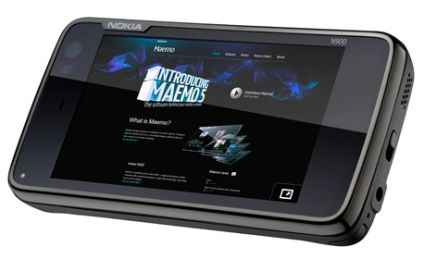 The preview video of the N900 also served to showcase the wonderful new Maemo 5 operating system. Have a look:
The idea of panorama desktops, which is basically five or six virtual desktops, goes down very well with us. Simply flicking your finger across the home screen will take you to different desktops, such as one for Internet, another for multimedia, one more for contacts, etc.
What's more, the true power of the Linux-based platform shows through in its multi-tasking capabilities, where all your programs or windows are kept open at the same time. Since you never have to close a window, the phone runs quite a bit faster than any other we have seen.
And Nokia has taken a page out of the Mac OSX by including an Expose-like feature called Dashboard, whereby pressing a button throws all your open windows into a thumbnail grid to easily select the one you want.
Browsing the Internet, especially, seemed brilliant as the phone can render a Web page just like that on a regular PC screen. Zooming in and out has been finally innovated into a single-finger function: Making a circling motion with your finger in the clockwise direction zooms in, while circling anti-clockwise zooms out. Nice!
As for the camera, it seems to deliver good pictures and comes with a whole array of photo-editing options, including adding tags. And you can always upload any picture very quickly to the Internet through the set of onboard tools.
All in all, the Nokia N900 and Maemo 5 combination is seeming very, very promising indeed. We can't wait to get our hands on this iPhone-kil--- doh!
Finally, here are the official Nokia pages to read more about the
Maemo 5
, as well as about the
N900
. And as always, check out the gallery below for a ton of pics.