Working from home?
Don't forget about the most important equipment in your arsenal
Click here to know more
Nokia has officially announced the launch of its its Lumia 1320 and Lumia 525 smartphones in India. Both the smartphones will be available in the market from the next month. The Nokia Lumia 1320 has been priced at Rs. 23,999, while the Lumia 525 will be available for Rs 10,399.
The Lumia 1320 is the latest large-screen phablet from the Finnish handset maker. Nokia has already launched a 6-inch Lumia 1520 phablet in India. The Lumia 1320 sports a 6-inch IPS LCD display with 720x1280 pixels resolution. It comes with Nokia's ClearBlack technology and has a pixel density of 245ppi (pixels per inch).
The Nokia Lumia 1320 runs Windows Phone 8 and is powered by a 1.7GHz dual core Qualcomm Snapdragon S4 processor along with 1GB of RAM. The phablet comes with 8GB inbuilt storage, expandable up to 64GB via microSD card. It also comes with free 7GB of SkyDrive cloud storage.
The Nokia Lumia 1320 sports a 5MP rear camera with LED flash and features Nokia Camera app. For connectivity, the Lumia 1320 supports 3G, Bluetooth 4.0, GPRS, EDGE and WiFi connectivity. The smartphone will be available in four colour variants such as Black, Orange, White and Yellow.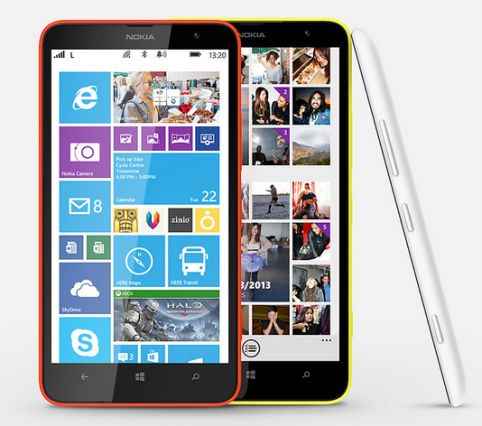 Nokia Lumia 1320
The Nokia Lumia 525, an upgraded version of the Lumia 520, was unveiled in November last year. The smartphone features 1GB of RAM and runs Windows Phone 8. The Lumia 525 is powered by a a dual-core 1GHz Snapdragon S4 processor.
It has a 4-inch display with 800 x 480 pixels resolution. It sports 5MP camera without flash. Other features of the smartphone include 1430mAh battery, 8GB of internal storage expandable via microSD card, and apps like Nokia's Here Maps, Drive and Transit.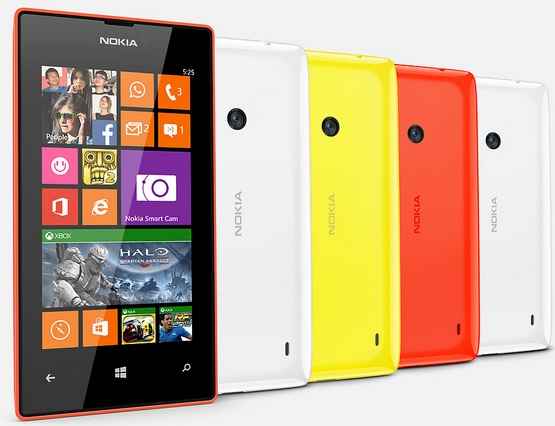 Nokia Lumia 525