An article detailing the soon to be launched DRM-free Ovi Music Unlimited service in India, following the service's launch in China today.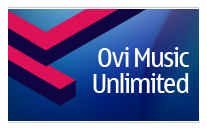 Nokia launched its Ovi Music Unlimited (OMU) service in India on the 26th of March. Users were however unhappy to note that the songs they downloaded were not DRM-free, and could only be used on their registered/authorized phones and computers. The songs would also expire after a stipulated period, ranging from 1 to 2 years, depending on the OMU license that came along with the mobile when it was purchased.
Nokia announced today, that its Ovi Music Unlimited service in China will be DRM-free, and will be the "first device and PC-based free, legal, DRM-free music download service in the world's biggest mobile market." Chinese users of this country-specific service will also be able to keep the music indefinitely.
Nokia also said that "the forthcoming launch of the service in India will add significant scale and differentiation in another critical market...By getting the Comes with Music service up and running in China, and with India coming on shortly, Nokia is taking important steps in continuing to expand its Comes With Music ecosystem. It's also playing an important role in developing compelling alternatives for both artists and labels, and consumers."
This is good news for all Indian Ovi Music Unlimited Users, as they will be soon able to enjoy DRM-freedom just like their neighbours in China. Exact dates are not known however.