Update: Read Digit's hands-on experience with the 5230 and the 5530 XpressMusic touchscreen phones
After foraying into netbooks with the Booklet 3G and the N97 Mini preview, it seems that we are simply filled with Nokia news. Meanwhile, the company seems like it just can't wait for its Nokia World event in September to launch all its new products.
5230 XpressMusic
At a press event in Mumbai on Wednesday, Nokia took the wraps off the new 5230 XpressMusic touchscreen handset.
In terms of specifications, this one falls somewhere between the 5530 XpressMusic and the 5800 XpressMusic. While the 5800 is undeniably the granddaddy with everything but the kitchen sink thrown in, the 5530 cut out a few features, the most notable among them being 3G and GPS. It also went on to reduce the screen size to 2.9 inches.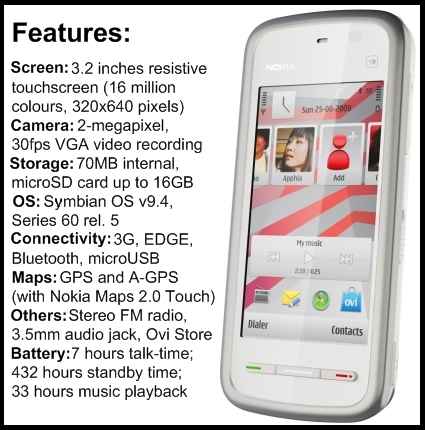 On the other hand, the newly-launched 5230 XpressMusic keeps the original 3.2-inch resistive touchscreen intact, complete with the 16 million colours, 360x640 pixel resolution, accelerometer, proximity sensor and handwriting recognition.
3G and GPS make a comeback as well, with the latter being ably supported by the Nokia Maps 2.0 Touch software suite.
However, the 5230 skimps on the camera, reducing it to a 2-megapixel sensor and doing away with LED flash as well as autofocus, not to mention the Carl Zeiss optics. Wi-Fi is also given a miss in this one, so you can forget about high-speed connections till someone finally launches 3G in India.
The 5230 is expected to retail at about Rs 10,000.
5530 XpressMusic
Meanwhile, the company also said the much-hyped 5530 XpressMusic (read specs
here
), would also be made available in the Indian market.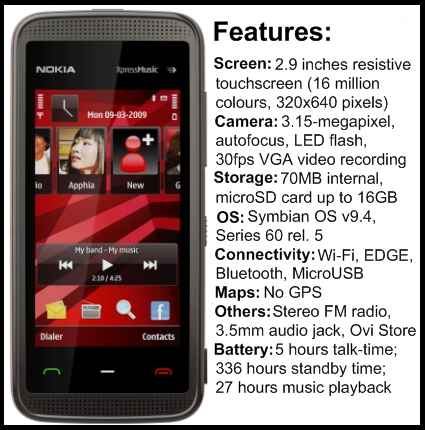 Vineet Taneja, Director – Marketing, Nokia India, said: "As the market leader, Nokia's value proposition is to offer products that combine aesthetics, technology and ease of use. Nokia's touch devices are also based on these strengths and with the new Nokia 5230 and Nokia 5530 XpressMusic we aim to give our consumers phones that look great, provide enhanced touch and music experience and, at the same time, are competitively priced."
The 5530 is expected to retail at about Rs 13,990.
5630 XpressMusic
The only non-touch delicacy to be presented on Thursday was a candybar… handset, that is. The 5630 XpressMusic has been around for some time now, and Nokia has now officially launched it in India.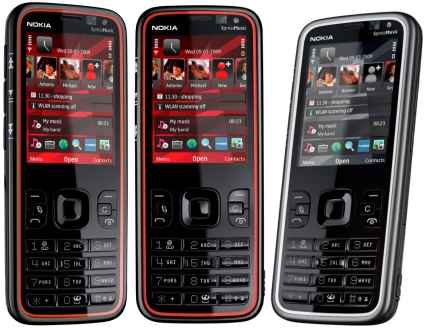 This one is a feature-packed offering for those who want their physical keyboard intact. It sports a 2.2-inch screen (16 million colours, 240x320 pixels), 3.5mm audio jack with dedicated music keys, and a 3.15-megapixel camera with enhanced fixed focus and LED flash.
Running on Symbian S60 3rd edition, it is powered by a 434MHz processor, 128MB RAM and has 256MB of onboard storage that can be expanded up to 16GB via microSD.
3G, Wi-Fi, Bluetooth make an appearance, while the battery clocks in a decent 7 hours of talk-time and 25 hours of music playback.
However, no price indications were given for this one.