Nokia is rolling out PR v1.2 update for its Lumia 710 and Lumia 800 devices in India. With the new software upgrade, Nokia Lumia users can now expect improved battery life and performance from their Lumia devices.
The Finnish company made the announcement through its official Facebook page. The company said that users can download the update via the Zune software and through its service centres. Users can walk into any Nokia service centre and get the update free of cost.
Earlier, a number of Nokia Lumia users had complained about poor battery life. The PR 1.2 upgrade is likely to sort out that problem. The update is likely to better the audio performance including hands free communications of the Lumia smartphones as well.
According to reports, the upgrade is also going to sort out various issues with the Lumia 710 devices such as calls not getting disconnected, a bug acknowledged by multiple users across globe.
The PR v1.2 update comes shortly after reports of Nokia rolling out an upgrade to its Lumia 800 that tripled the battery life of the device. The upgrade was reported to bring in refined screen brightness controls, and improved white balance in the camera app. The update supposedly fixed an issue related to the audio bass of the device.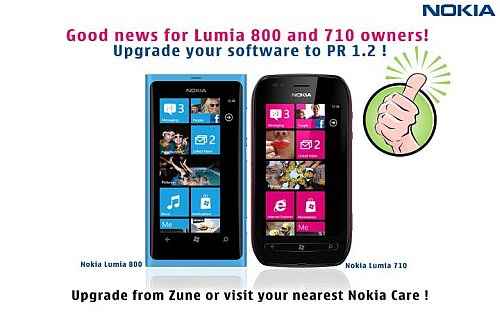 Also read,
Nokia Windows 8 tablet in the works, confirms company's design chief
Nokia to launch Lumia 900 in India soon, without 4G support
Nokia Asha 303 launched in India, 3G Touch and Type at Rs. 8,999