The Finnish mobile manufacturer has introduced the first of its new lineup of Asha smartphones, Asha 501, featuring a revamped design philosophy, and a brand new OS, in hopes of revitalizing its struggling smartphone ambitions.
As expected, Nokia in New Delhi today unveiled the Asha 501, the first of a new family of Asha smartphones. Today's image leaks of the smartphone were spot on – the new design philosophy for the Asha family is aping that of the Lumia series. The Asha 501 will start shipping in June, and has been given a suggested price of $99 (roughly Rs. 5,400) before taxes and subsidies. The Asha 501 will be made available in more than 90 countries.
The Asha 501 is the platform lead device for the new 'Nokia Asha software platform 1.0', based on Smarterphone's OS, a company Nokia acquired back in 2011. Unfortunately, this does mean Nokia will have another nascent ecosystem on its hands again, and will be releasing SDK/APIs for developers soon. Java-compatibility will ensure S40 apps from the Nokia Store can be easily ported over. The phone will launch with $75 worth of EA games, and some major apps, like Facebook and Twitter will be pre-installed.
Featuring a 3-inch 320x240 pixel 256k colour TFT capacitive touchscreen, the Asha 501 weighs in at 98.2 grams, is 12.1mm thick, and bears a 3.5MP camera. It will be available in single or 'EasySwap' dual-SIM models. It bears 128MB of built-in storage, expandable via microSD to 32GB (a 4GB card will be bundled with the phone). It's powered by a 1200 mAh battery, which is rated to deliver 17 hours of talktime, in standby times of 48 days (single-SIM) and 26 days (dual-SIM). It will be available in bright red, bright green, cyan, yellow, white and black.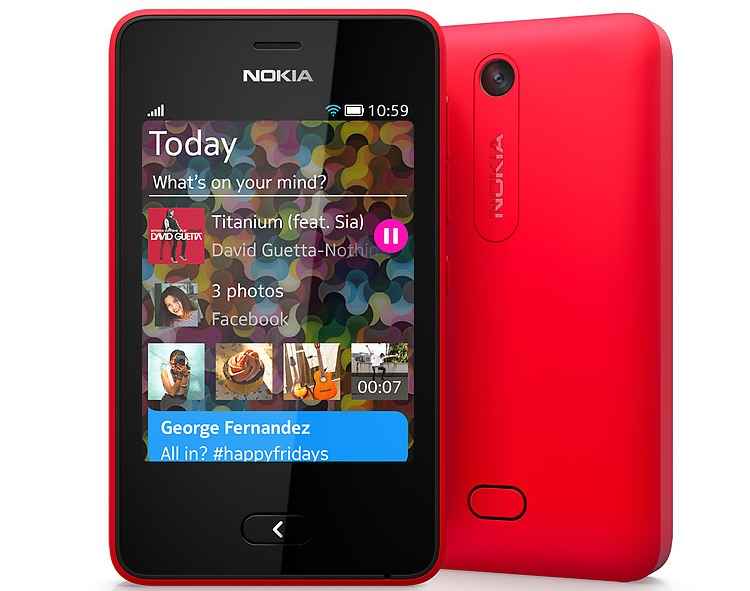 With no details about processor type, and just 64MB RAM (coupled with a proprietary OS), the Asha 501 certainly seems like a throwback to the budget smartphones of yesteryear. The Asha 501 is a 2G-only phone that supports Wi-Fi 802.11 b/g, Bluetooth v3.0 with EDR, and FM radio connectivity. The Slam sharing feature is also here, using Bluetooth to share data with a bump. Nokia is also talking up the Xpress browser on the Asha 501, offering cloud-compression, with a trending news-reading feature called Xpress Now.
The new Asha OS has a Fastlane feature, which users can access with a swipe, displaying all recently accessed aspects of the phone, from apps to contacts to messages, allowing users to quickly jump between their most commonly used features.
Nokia listed some of the applications that are already available or in development for the Nokia Asha platform, including CNN, eBuddy, ESPN, Facebook, Foursquare, Line, LinkedIn, Nimbuzz, Pictelligent, The Weather Channel, Twitter, WeChat, World of Red Bull and games from Electronic Arts, Gameloft, Indiagames, Namco-Bandai and Reliance Games. A couple of months from launch, the Nokia Here app, WhatsApp and Line will make their way to the platform.
Nokia will also be selling accessories for the Asha 501, such as a universal portable USB charger, the Nokia WH-208 stereo headset, and a shell.
What do you think of the Nokia Asha 501 and the new Asha platform? With these, does Nokia stand a chance against other budget smartphone offerings in India? Will they revitalize the company's flailing smartphone ambitions? Will the new ecosystem get developers? Let us know in the comments section below:
Do check out first impressions of the Asha 501.