Nokia has officially launched its Asha 305 phone in India. Priced at Rs. 4,688, the Nokia Asha 305 is a full-touch dual-SIM (GSM GSM) phone.
The Nokia Asha 305 was announced along with Asha 306 and Asha 311 phones in June this year. It is the first full touch phone in the Asha series. The Asha 305 features a 3-inch WQVGA resistive touch screen with 240 X 400 pixels resolution. It has a 2MP camera with 4X zoom, 10MB built-in storage and microSD support for up to 32GB storage. The Nokia Asha 305 also packs a 2GB microSD card.
The Nokia Asha 305 comes with a 1,110 mAh battery, which is rated to deliver up to 14 hours of talk time and 528 hours on standby mode. The device comes pre-loaded with 40 EA games, including Tetris, Need for Speed and FIFA 2012. It also has Nokia Maps for navigation purposes. Check out more specifications of the Asha 305 here.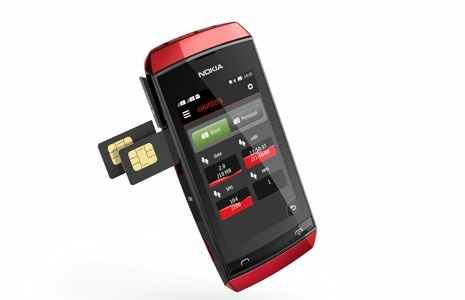 The Asha 305 supports various IM services such as Google Talk, Yahoo Messenger and Windows Live Messenger. The device is available in three colours – black, red and blue. You can buy it from Nokia's online store.
Nokia, one of the leading brands in dual-SIM phone segment, has launched quite a few Asha phones in India. Back in April, Nokia had launched Asha 202, a dual-SIM touch and type phone. Priced at Rs. 4,149, the Asha 202 features a 2.4 inch resistive touchscreen ( 320 x 240 pixels) with a traditional alpha-numeric keypad. It has a built-in storage of 10MB, expandable up to 32GB via microSD card.
Other Asha phones currently available in India are Asha 303, 300 and 200.
Also read,