An article detailing the super low priced C series phones announced by Nokia, the Nokia C2 and C1.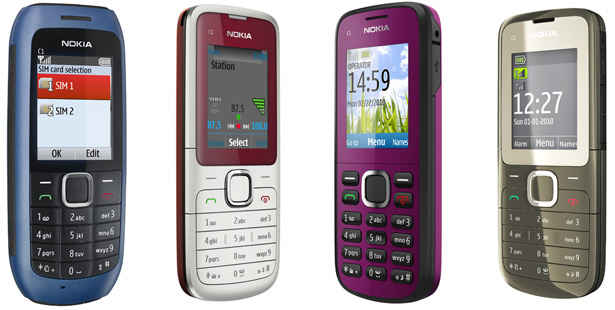 Nokia has announced new Cseries devices that are ideal for developing countries, with four low-cost and sturdy mobiles, two of which are dual SIM.
The Nokia C2 will cost 45 Euros, or approximately Rs. 2, 500, and is a dual SIM phone that has the second SIM in a hot-swappable position, said to be the world's first such mobile. It supports dual-band GSM, at 900/1800 MHz. Other features include a VGA camera, GPRS/Bluetooth/microUSB connectivity, microSD expansion to 32GB (!), 3.5mm audio jack and MP3 player, and FM radio with broadcast recording. It has a standby time of 16.5 days, and a talk time of 4 hours.
The Nokia C1 is available in three flavours, the dual SIM Nokia C1-00, the Nokia C1-01 and the Nokia C1-02. The C1-00 will cost 30 Euros, or approximately Rs. 1,700, and is a GSM-GSM dual SIM phone that supports just one active SIM at a time, along with an easy switch option. Featuring an astounding 48 day standby time, the phone also offers FM radio, 3.5mm audio jack and a flashlight at the low-price.
The Nokia C1-01 and Nokia C1-02 are similarly designed, but have a single SIM card slot, and offer GPRS/Bluetooth connectivity and microSD card slot expansion (up to 32GB) in addition to the Nokai C1-00's features. The only difference between the two is that the C1-01 has a VGA camera. The C1-01 is priced at 39 Euros or approximately Rs. 2,200, and the C1-02 is priced at 35 Euros or approximately Rs. 2,000.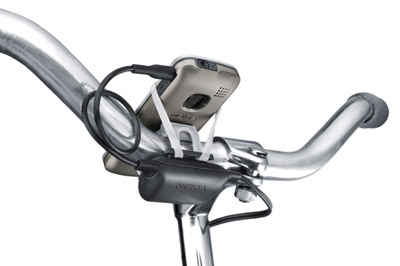 The Nokia C1-00 is expected to release in Q3 2010, while the other thee phones will release in Q4 2010. Along with them, Nokia will also launch its useful bicycle charging kit, which employs a dynamo to charge phones that support the standard Nokia 2mm power pin. This will certainly be a great advantage in developing countries, including India.
Nokia certainly seems to be trying hard to expand its product offering, from the extreme low-end of the Nokia C1-00 to the high end of the Nokia N8.
Read on to find a comparison table of specifications for all four phones...


Phone

C1-00

C1-01

C1-02

C2-00




2G
network

GSM 900 / 1800
SIM 1

GSM 900 / 1800

GSM 900 / 1800

GSM 900 / 1800
SIM 1

GSM 900 / 1800
SIM 2

GSM 850 / 1900

GSM 850 / 1900

GSM 900 / 1800
SIM 2

Dimensions

107.1x45x15 mm,
63 cc

108x45x14mm,
57 cc

108x45x13.8mm,
61 cc

108x45x14.7mm, 67.9 cc

Weight

72.9 g

78.8 g

77.5 g

74 g

Display

1.8-inch
128 x 160 pixels
TFT, 65K colors

1.8-inch
128 x 160 pixels
TFT, 65K colors

1.8-inch
128 x 160 pixels
TFT, 65K colors

1.8-inch
128 x 160 pixels
TFT, 65K colors

Alert
types

Vibration;
MP3 ringtones

Vibration;
MP3/WAV ringtones

Vibration;
MP3/WAV ringtones

Vibration;
MP3/WAV ringtones

Speaker
phone

Yes

Yes

Yes

Yes

Phonebook

500 entries

1000 entries, Photocall

1000 entries, Photocall

1000 entries, Photocall

Call records

20 dialed,
20 received,
20 missed calls

20 dialed,
20 received,
20 missed calls

20 dialed,
20 received,
20 missed calls

20 dialed,
20 received,
20 missed calls

Card slot

No

microSD, up to 32GB

microSD, up to 32GB

microSD, up to 32GB

Bluetooth

No

Yes, v2.0

Yes, v2.0

Yes, v2.0

USB

No

Yes, microUSB

Yes, microUSB

Yes, microUSB

GPRS

No

Class 10
(4 1/3 2 slots) 32 - 48 kbps

Class 10
(4 1/3 2 slots)
32 - 48 kbps

Class 12
(4 1 / 3 2 /
2 3 / 1 4 slots)
32 - 48 kbps

Camera

No

VGA, 640x480px

No

VGA, 640x480px

Messaging

SMS

SMS, MMS,
Email, IM

SMS, MMS,
Email, IM

SMS, MMS,
Email, IM

Browser

No

WAP 2.0/xHTML

WAP 2.0/xHTML

WAP 2.0/xHTML

Audio

3.5mm audio jack,
FM radio

3.5mm audio jack,
Stereo FM radio;
FM recording, MP3/WAV/ AAC
support

3.5mm audio jack,
Stereo FM radio;
FM recording, MP3/WAV/ AAC
support

3.5mm audio jack,
Stereo FM radio;
FM recording, MP3/WAV/ AAC
support

Games

Yes

Yes

Yes

Yes

Colours

Medium Blue,
Red,
Light Gray,
Sea Green

Dark Grey,
Warm Grey,
Red,
Midnight Blue

Black,
Dark Plum,
Blue,
Cool Grey

Dynamic Gray,
Jet Black,
Magenta,
Dark Blue,
Snow White

Java

No

Yes, MIDP 2.0

Yes, MIDP 2.0

Yes, MIDP 2.0

Dual SIM
type

GSM GSM,
no dual standby

GSM GSM,
dual standby

Battery

Li-Ion 1020 (BL-5C)
standby time
up to 1152 h,
talk time
up to 13 h

Li-Ion (BL-5CB)
standby time
up to 504 h,
talk time
up to 10 h 40 m

Li-Ion (BL-5CB)
standby time
up to 504 h,
talk time
up to 10 h 40 m

Li-Ion 1020 (BL-5C)
standby time
up to 396 h,
talk time
up to 4 h