Nokia 8, the flagship smartphone from HMD Global, will be finally announced on August 16. The company has started sending media invites for an event in London where it is expected to showcase the flagship Nokia 8 alongside the entry-level Nokia 2 smartphone.
Ahead of its official announcement, the smartphone has been spotted running Android 8.0.0 on the GeekBench benchmark. The listing shows a Nokia smartphone with codename "Unknown Heart" powered by the Snapdragon 835 and offering 4GB RAM. The handset has appeared on benchmarks in the past as well, but this is the first time the device has been spotted running Android 8.0.0.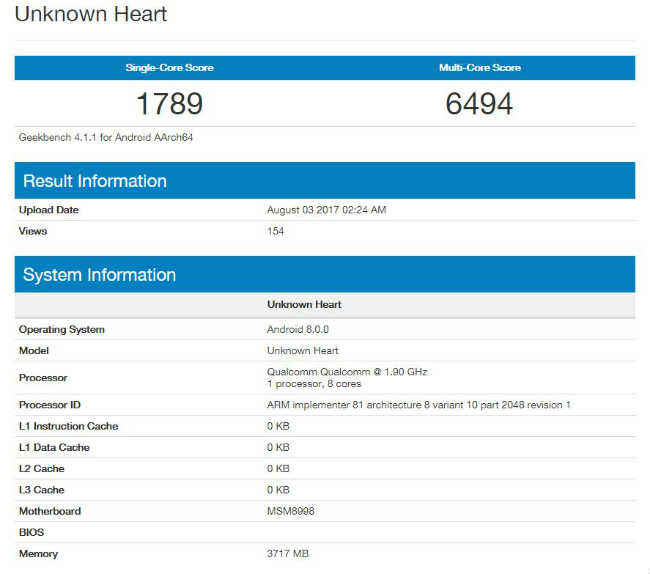 This new benchmark listing indicates that Android 8.0.0 will be finalised by the time HMD launches its flagship product. Google recently pushed out Android O Developer Preview 4, the final release before the official rollout. The final version of Android O, likely to launch next week as Android 8.0.0 is expected to start hitting Google's Pixel and Nexus devices next week.
While the benchmark listing doesn't necessarily mean that the Nokia 8 will launch with Android 8.0.0, it does indicate that HMD Global has already begun testing the operating system. There is a possibility that the Nokia 8 could debut as the first smartphone running Android 8.0.0. Last year, the LG V20 was the first smartphone to launch with Android 7.0 Nougat out-of-the-box.
Back in June, HMD Global confirmed that all of its smartphones will be upgraded to Android O when it becomes available from Google. The company has been trying to set itself apart from other Android OEMs in terms of its premium design and timely software updates. If the Nokia 8 debuts with Android 8.0.0, HMD Global could have a serious competitor against other phones, most of which still run an year-old operating system in Nougat.