The Nexus 6 is now available on Flipkart for pre-order and you can exchange older devices to get up to Rs. 10,000 off.
The Motorola made Google Nexus 6 is now available for pre-order on Flipkart. Not just that, Flipkart is also offering exchange offers, where you can exchange an older device to get up to Rs. 10,000 off. Interestingly, the device is still listed as 'coming soon' on the Google Play India website. This is noteworthy since Nexus devices have usually been launched on Google Play before anywhere else.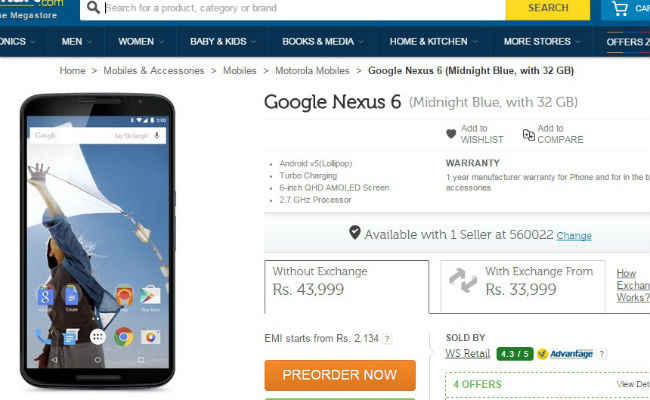 The pricing for the Nexus 6 had been confirmed earlier. The device will be priced at Rs. 44,000 for the 32 GB version and Rs. 49,000 for the 64 GB version. It is available in Midnight Blue and Cloud White colours.
In addition, the Nexus 9 should also be coming soon to the country. The Lollipop powered tablet was spotted by import tracking website Zauba. The website shows that 2,000 units of the tablet were shipped to India on 15 November, preceded by 10 units, which were shipped on the day before as testing samples.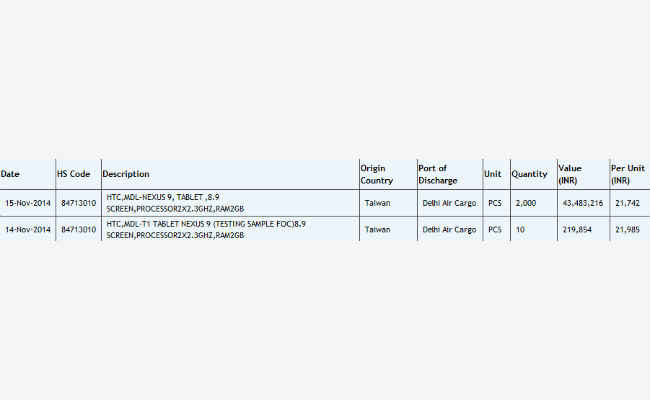 This is just one import slip though, which means that more units of the device may be shipped this week. In addition, the testing samples show that Google is conducting its tests for the country before it launches the device in the market. We'll let you know when we know more, so, watch this space.