The Nexus 5 popped up on the Google Play store for a short duration. The pricing of the smartphone was listed as $349
The Nexus 5 appeared for a brief period on the Google Play store. The listing seems to be an error as no details were available upon clicking nor could the smartphone be purchased. The price for the 16GB variant of the Nexus 5 was listed at $349.
The smartphone is no longer visible on the Google Play store. It seems like the camera of the Nexus 5 will be one of its USP as the tagline for the smartphone read, "Capture the everyday and the epic in fresh new ways."
Hints unleashed on Twitter indicate that the Nexus 5 will be unveiled on October 28. Leaks regarding the Nexus 5 have been making the rounds on the Internet for some time now. It all started with the official unveiling of KitKat where the Nexus 5 was accidently spotted in the video. Since then, the Nexus 5 has appeared in a series of leaks including one leak that came from the FCC.

We have not only seen leaks hint at the design elements of the smartphone but the specifications as well.
When the Nexus 4 was launched around this same time last year, it was available in two variants, 16GB priced at $349 and $299 for the 8GB variant.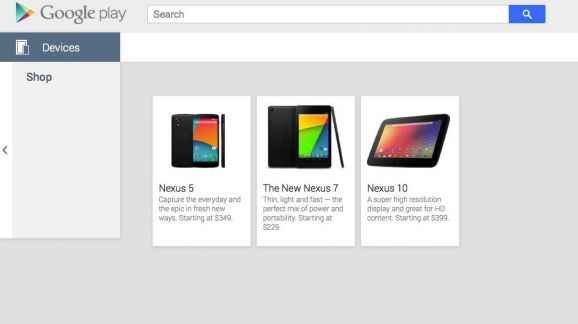 Source: The Verge