Researchers have been working to make charging a mobile phone convenient as well as environment friendly. We already have made some progress in that direction with solar powered cell phones. And now, researchers at Sweden's KTH Royal Institute of Technology have come up with water-activated charging device that powers using fresh or salt water.
Called the MyFC PowerTrekk, the device is based on micro fuel cell technology and can extend battery life up to 3 Watts. "Our invention has great potential to accelerate social development in emerging markets. There are large areas that lack electricity, while mobile phones fulfil more and more vital functions, such as access to weather information or electronic payment," says Anders Lundblad, KTH researcher and founder of MyFC.
The myFC PowerTrekk can provide instant power to mobile phones, digital cameras, GPS devices and most devices that can be charged with USB.
PowerTrekk uses fuel cell technology which converts hydrogen into electricity. Users simply insert the PowerTrekk Puck, add water to provide instant power on the go. Unlike solar chargers, fuel cell power is generated quickly. The PowerTrekk Puck is available in 3-packs. Power-Trekk also has a portable battery pack that can operate on its own as a ready source of power or storage buffer for the fuel cell.

Researchers say the resulting charge can power an iPhone to between 25 and 100 per cent of its battery capacity.
According to Lundblad, the vision behind the PowerTrekk is to monetise fuel cell technology as well as push the development of environment technology. Lundblad believes the PowerTrekk could be the very first step towards developing fuel cells in laptops.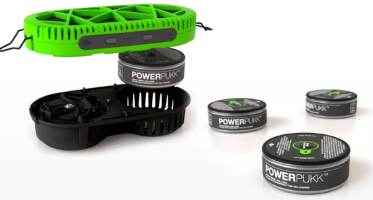 "The launch of our charger is a strategic move to gain wide acceptance of fuel cells throughout society. Our chargers may be considered expensive now; but in the longer term, as they reach a mass market, they would go down in price," he said.
To know more about the myFC PowerTrekk water-activated charging device, click here.