Mobile chipmaker Qualcomm announced its upcoming mobile SoC, the Snapdragon 820. This new SOC is built upon Qualcomm's Zeroth platform.
According to Qualcomm, the Zeroth platform, incorporated in its upcoming Snapdragon 820 SoC, will be able lay the foundation for on-device cognitive capabilities like visual perception, audio and sound recognition, always-on awareness, intelligent connectivity, Immersive multimedia, natural device interactions and intuitive security.
The Snapdragon 820 SoC will be built on a FinFET manufacturing process and will boast Qualcomm's custom Kryo CPU which will have ARMv8 CPU cores. Qualcomm did not divulge any further details regarding the specs of the new SoC. The Snapdragon 820 is expected to begin sampling in the second half of 2015.
Qualcomm also showcased its new security platform called Snapdragon Sense ID. This new technology scans fingerprints in 3D using ultrasonic waves. This is a far superior technology than the 2D scanning technology which is currently used by Apple and Samsung.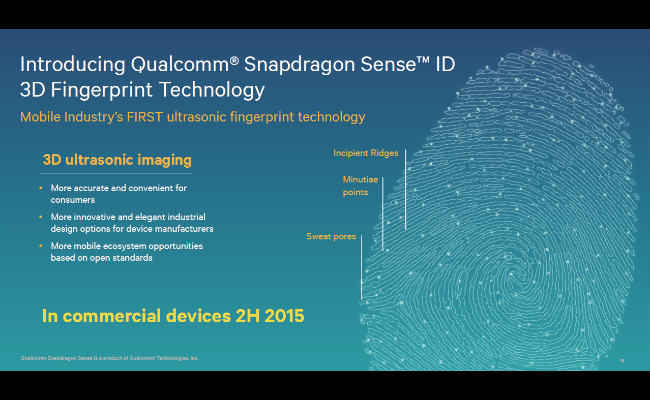 The new Snapdragon Sense ID will allow OEMs to implement fingerprint scanners almost anywhere on the device as this technology will work through different materials. This new technology will allow sensors to recognize the user even with greasy or wet hands and will be more reliable as well.
Qualcomm is expecting these sensors to be available in the mobile market since these sensors could be built into Snapdragon 810 and Snapdragon 410 chips. Qualcomm will be selling the Snapdragon Sense ID as a standalone product as well.