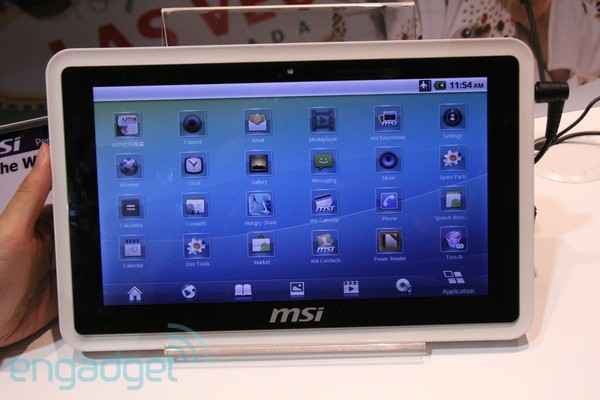 While the Samsung Galaxy Tab was the first tablet by a major manufacturer to make its way into India, and the Apple iPad has just joined it, now MSI has launched its own - the WindPad 100W - first previewed at Computex 2010, and then at CES 2011. Running a full fledged operating system, Microsoft Windows 7 Home Premium, the 10.1-inch WindPad definitely scores well ahead of the competition in terms of app availability and variety...but there's more to that picture...
[RELATED_ARTICLE]Pricing the Wi-Fi only WindPad 100W at Rs. 34,990, well ahead of the Galaxy Tab and the cheapest iPad, MSI seems to be acknowledging this advantage along with the presence of an Atom CPU, 2GB of DDR2 RAM and a 32GB SSD. However, MSI's brand value might just be the deciding factor here, with many consumers attracted to the bigger names and lower prices of its market predecessors, unsure as to specifications. Also to be taken into account is the much maligned touch-interface of Windows 7, and it still remains to be seen how well MSI's WindTouch interface - a bunch of OS skin and multi-touch augmentations - has been implemented. Unless they've optimized it further since CES 2011, things don't look very promising for MSI at this point.
Soon though, things might change - MSI did announce that new WindPad tablets with the newer SoC type Intel Atom Oak Trail processors will breeze it to markets by March, and Tegra 2 running Android 3.0 variants will swing by later in April - May.
The MSI WindPad 100W, available at various e-tailers, packs the following configuration:
Dimensions: 274 x 173 x 18.5 mm
Display: 10.1-inch capacitive touchscreen (1024 x 600 resolution)
CPU: Intel 1.66GHz Atom Menlow Z530
OS: Windows 7 Home Premium
Memory: 2GB DDR2 RAM
Storage: 32GB SSD, SD card reader expandability
Ports: USB2.0, HDMI, H/P out
Cameras: Front and rear cameras
Connectivity: WiFi 802.11 b/g/n, Bluetooth unknown
Weight: 800 grams
Battery: mAh unknown, 6 hours use life, standby unknown
Sensors: Ambient light sensor, accelerometer, g-sensor

Image courtesy: Engadget