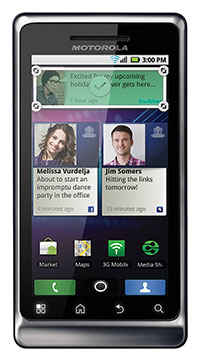 We already told you about Motorola Defy; now we will take a look at its richer counterpart, and successor to the Milestone - the Motorola Milestone 2.

With nearly the same specs, there are still some big and small feature advances. Milestone 2 will come with a slide on QWERTY keypad and will feature the Motoblur platform, which is based on Android 2.2. The system specifications consists of a 1GHz OMAP processor, 512MB RAM, and aesthetics feel very much like Droid 2.

As for multimedia features, the phone brings 720p HD recording with its 5MP sensor. Even though the prior builds used to have nearly the same sensor chip, they were unable to capture HD footage, so that is quite a big deal. Milestone 2 has 8GB internal memory, as well as an additional 8GB microSD card along with the package.

The Motorola Milestone 2 will be out there in the wild in Q4, 2010; in October, more precisely. The pricing details are not yet known, but it will be carrier/contract dependent. We can expect it to be around $599, the same level as the Motorola Droid 2, if not a few bucks more.