Motorola is preparing to unveil a new phone on May 13th. The company says that the smartphone is made to last and is priced for all.
Motorola has sent out an invitation to its event on May 13th where it will unveil its next smartphone. The company says that the new smartphone is intended to connect more people to the world's information and each other and promises that it will be "made to last" and "priced for all."
Instead of focusing on high-cost smartphones, Motorola seems to be targeting the ultra-low budget smartphone category. The reason could be the reception which the company received when it launched Moto G, which became an instant hit right from the day of its release. The upcoming smartphone will be priced even lower and the rumors of Motorola's next smartphone point that it might the Moto E. The new phone will be launched worldwide including India on May 13th.
The smartphone might be a well-designed and rugged as suggested by the tagline "made to last."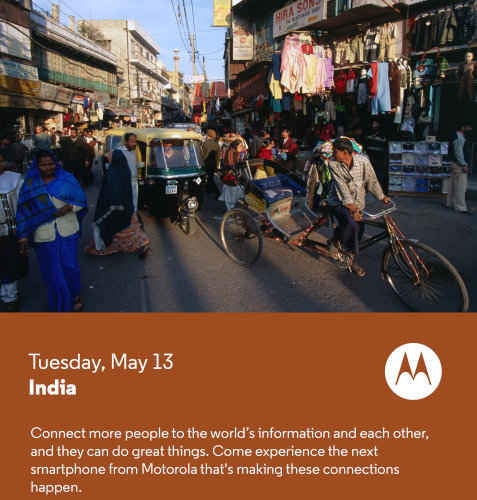 The Moto E is rumored to feature a 5MP camera and 4.3-inch HD display. It will be powered by a 1.2GHz dual-core processor with 1GB of RAM. While it might have low internal storage of only 4GB, Motorola is likely to provide a microSD card slot for expanding storage. The earlier leaks suggest that it will pack a 1900mAh battery.
Motorola is also said to be working on a rugged version of Moto G called the Moto G Forte which was spotted on the company's website earlier.. It will have similar specs as the Moto G in a rugged Grip Shell body.