Motorola is hosting an event on July 28th, where it is being expected to launch the rumoured Moto G 3rd generation; 3rd generation Moto X is also expected
Motorola is hosting an event on July 28, and going by the invitation, we speculate if the event concerns a device with waterproofing. The invite reads, "A good friend will offer you their umbrella. A best friend will forever be ready to dance in the rain with you." The event, scheduled for 3:30pm in New Delhi, will be followed by events in San Francisco, New York and London, and we expect to see the launch of the much-rumoured 3rd Generation Moto G. Alongside, possible launches of the 3rd generation Moto X and a new, water resistant phone, is also being spoken about.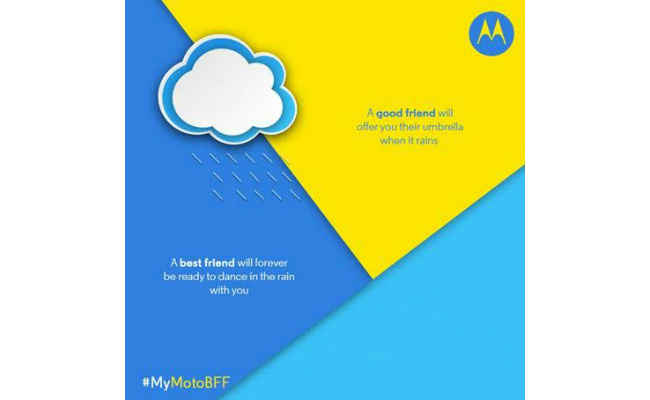 Rumours suggest that Motorola might introduce a waterproof variant of the Moto X, now being dubbed as Moto X Sport. The phone is expected to have a 1080p 5.5-inch display just like the current Moto X, with a 1.5GHz quad-core SoC, the details of which are unknown as yet.A 16MP rear camera and a 5MP front-facing camera is also expected on the phone.
Going by previous lauches, the 3rd generation editions of Moto G and Moto X might be launched on the same day. The Moto G (2015) image renders that we showcased earlier is rumored to get a tiny spec update compared to the current one. It is expected to be powered by Qualcomm Snapdragon 610 SoC, while an earlier rumour did suggest Snapdragon 410 being used. RAM capacity is expected to be doubled to 2GB, and the phone may have 16GB of storage. Camera modules are also rumoured to be upgraded, and the new Moto G might sport 13MP rear and 5MP front-facing shooters.
The new Moto X (2015) is rumoured to feature the same display as the one on the Moto Turbo — a 5.2-inch quad-HD display. The phone is expected to be powered by Qualcomm Snapdragon 808 with 4GB of RAM, and might come with 32/64GB internal storage options. The phone is also expected to get a 16MP primary camera and a 5MP front camera. Keeping Motorola's previous phones in mind, all the new phones should feature the latest Android (v5.1.1) OS out of the box.
Prices and details of availability are still unknown, and we hope the July 28 event will tell us more.