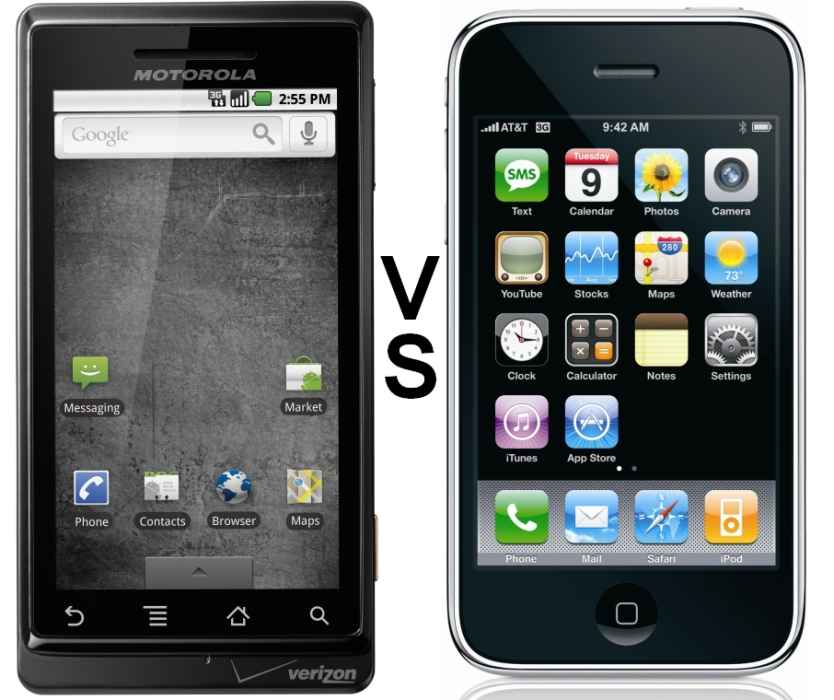 So the Motorola Droid – the
'Google phone'
we've all been waiting for – is finally here and ready to take on the undisputed king of the hill, Apple's iPhone.
Thankfully, price watcher
BillShrink
has already declared that the end cost of usage for both the iPhone and the Motorola Droid, over two years, would be the same: approximately $2800-$3800, depending on your tariff plan. Keeping that in mind, the only thing left to compare between the two are the phone's functions itself.
A lot of websites have started the comparisons, so here's a quick round-up for your benefit.
Engadget (with video):
"The kinetic scrolling on the Android is much faster than on the iPhone. However, the iPhone still has an edge in browsing the Internet using Wi-Fi and the default browsers of both systems. (But) the Droid definitely seems faster than previous Android devices."
Wired:
"The Droid goes beyond the iPhone in two key areas: Like the Palm Pre, applications can run in the background, and switching among them is a smooth process. And as a robust GPS device it accepts and gives turn-by-turn verbal instructions, making it the closest approximation yet to a total GPS solution that obviates the need for a dedicated vehicle device."
DanceWithShadows (with point-by-point analysis):
This comparison may seem to have been overly biased towards the Droid. Some may go as far as say it was written by an Android/Google fanboy... From the first looks, the Motorola Droid does seem like a serious contender to the title.
TechPP (with point-by-point analysis):
It is very tough to beat Apple on the music and applications front. But looking at the specifications and initial reviews of Motorola Droid, it does have lots of things going for it that previous devices have not.
And finally, shown below is an incredible chart by
PC World
, which compares the features that the two phones have to offer. So, what's your take on the Droid? Let us know in the comments…