Motorola and Verizon introduced the Droid Turbo 2 on Tuesday, a successor to last year's Droid Turbo smartphone. It is being touted as the world's first smartphone with a "shatterproof" display. The Droid Turbo 2 also supports Motorola's Moto Maker feature.
Over the past years, the Droid devices have become smartphone equivalents of turbocharged American muscle cars. The Droid Turbo 2 is no exception, and is basically a Moto X Style on steroids. Although the display has been shrunk to 5.4 inches, the Droid Turbo 2 has improved upon the Moto X Style in some departments. The device is powered by an octa-core Snapdragon 810 SoC, instead of the Snapdragon 808 on the Moto X Style. It has 3GB of RAM, and sports a 21-megapixel primary camera with dual-LED flash, and a 5-megapixel front camera with flash. It comes with either 32GB or 64GB of onboard storage, with the microSD slot supporting cards up to 2TB capacity. Motorola has claimed that the 3760mAh will be good enough for more than 48 hours of normal usage. The Droid Turbo 2 will ship with a 25W charger, that can provide 13 hours of battery life, after charging for 15 minutes. The phone will run Android Lollipop v5.1.1 out of the box, with Motorola and Verizon promising a Marshmallow update within the next few months.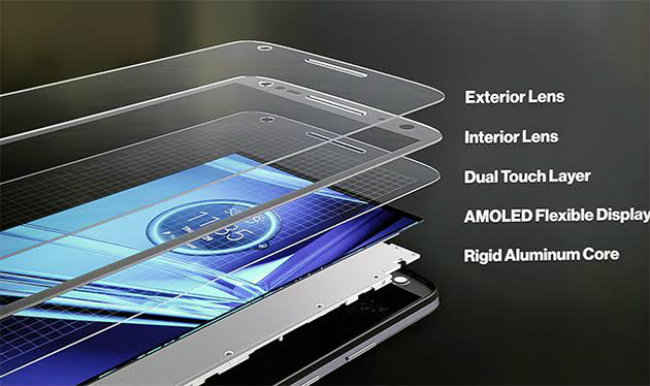 The USP of the Droid Turbo 2 lies in its "shatterproof" display. In order to demonstrate the phone's brawny credentials, Motorola President Rick Osterloh deliberately dropped the device on concrete. Motorola has employed a five-layered glass and lens system, to make the Droid Turbo 2 durable. The "ShatterShield" technology took Motorola three years to develop. The layers are composed of a rigid aluminium core, a flexible AMOLED display, twin touch layers, and inner and outer lens for the covering. Reports suggest that the Motorola Droid Turbo 2 will be launched in Europe and Asia, as the Moto X Force.
Alongside the Droid Turbo 2, Motorola also announced the Droid Maxx 2, which is a rebranded version of the Moto X Play. It has identical specifications to the Moto X Play, and comes with Moto Maker support. The Droid Maxx 2 will cost $16/month under contract from Verizon ($384 over two years). While the 32GB Droid Turbo 2 will cost $26/month, the 64GB version will be available for $30/month. The new Droids by Moto will go on sale from Thursday, October 29.