The announcement comes after the release of the new Snapdragon chipset. The Edge S is going to be the flagship phone from Motorola. The Snapdragon 870 is an overclocked version of the Snapdragon 865+.
Just after the announcement of the Snapdragon 870 chipset, Motorola confirmed the announcement of their Motorola Edge S with this new chipset.
The phone had already been teased on Weibo previously, which gave hints about the new chipset. Motorola has now confirmed that the phone will be unveiled on January 26, and will be powered by the latest Snapdragon 870 chipset. After quite a long time, Motorola has unveiled a new flagship phone which is also the first Moto Edge smartphone in China.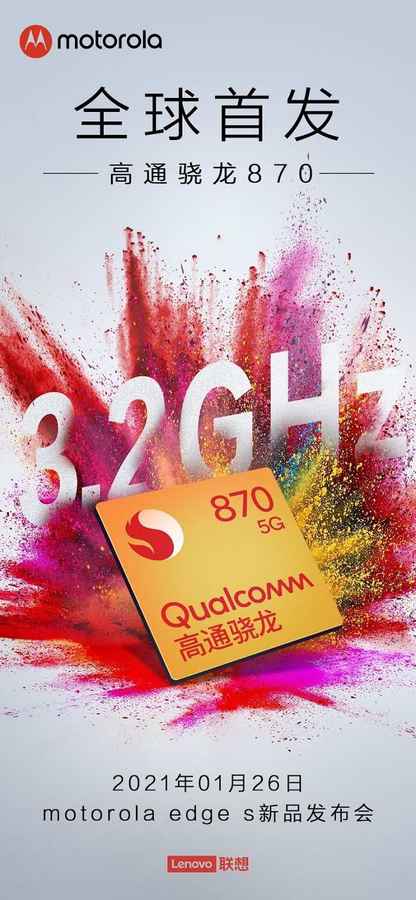 As per Lenovo's Weibo account, the Motorola Edges S is going to be the first phone in the world to be powered by the new Snapdragon 870 chipset. The 870 is a 7nm chipset with a clock speed of 3.2GHz and is an overclocked version of the 865+ which is also an overclocked version of 865, meaning this SoC is a double overclocked chip.
The phone is reported to have a 6.7-inch display, with FHD+ resolution and a unique 105Hz refresh rate. The phone will come with either 8 GB or 12 GB RAM and feature a 64MP primary camera. There have been rumours about a side-mounted fingerprint sensor and a 5,000 mAh battery, but no news is available about the charging speed of the device.
The phone will run on ZUI based on Android 11, although it is not yet confirmed if the phone will see a global release or just in the China region.