The Micromax Canvas HD A116 is now back in stock, but will be delivered in 20 business days.
The Micromax Canvas HD A116 can easily be called the most awaited Android smartphone in India. The device went on sale exclusively online on snapdeal.com and the device was sold out in a matter of minutes.
The A116 has now appeared back on the online shopping portal but with the following declaimer note. "Please note: The first lot of orders are sold out and will be shipped as per stated timelines. You may book the new lot which will get shipped in 20 business days."
India is facing the same situation which was faced by the U.S., when the Nexus 4 launched. The LG Nexus 4 was available in the US via the Google Play store only and was sold out in a matter of minutes. The device has been bouncing between in stock and out of stock ever since its launch. The Nexus 4 is so popular that suppliers have not been able to match the demand. We think the Micromax Canvas HD A116 will face the same situation in India.
When we inquired at a local mobile vendor in Delhi, who said that there is no information on when the device will be available over the counter. So far, it is available online only.
For Rs. 13,990, you are getting a good deal with the A116. In terms of its specifications, the Micromax Canvas HD A116 has a 5-inch IPS LCD display with a 1280x720 resolution. It is 10.7mm thin and weighs a mere 156gms. It has a quad-core 1.2GHz processor, 1GB of RAM and PowerVR Series5XT GPU. It also houses a 2000mAh battery, an 8MP rear camera and a 2MP front facing camera. It runs on Android 4.1 Jelly Bean upgradable to Android 4.2.
Those interested can book the Canvas HD here.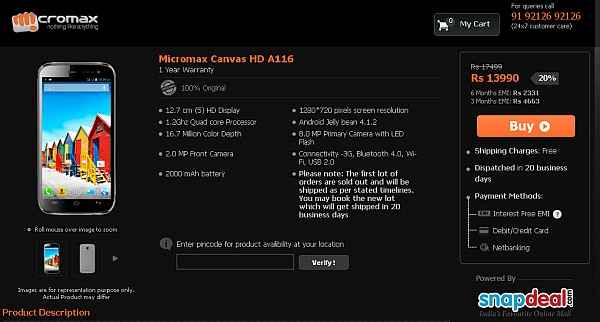 Micromax Canvas HD A116 back in stock